Find out how Action Centre helps you keep on top of important tasks to keep your Community healthy and running smoothly
What is the Action Centre?
The Action centre is an area of the Console to help keep you informed of important tasks to complete in your Community. Rather than being informational, it's action-oriented, so a card will only show up if there is an action or task you can complete that could help keep your Community running smoothly.
To find the Action Centre, head to the Console, select Home from the left hand side panel and then pick Action Centre.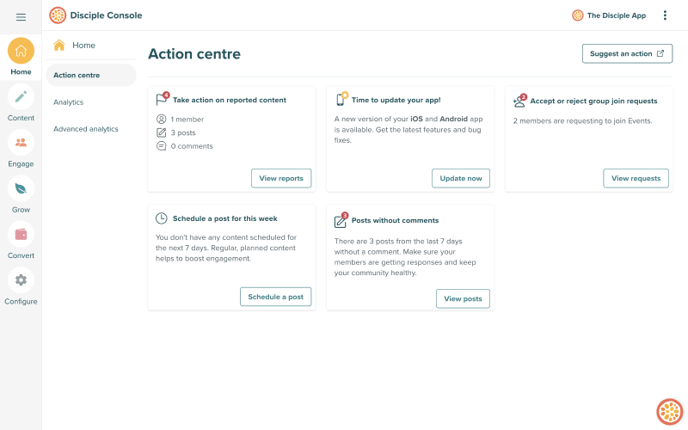 What action cards show and how do I use them?
There are currently five cards that can be displayed. Actioning the tasks on a specific card will remove that card from view.
Let's take a look at what cards you could see:
Reported content:
It's important to keep on top of reported Posts, to ensure members are engaging in-line with your Community guidelines.
When there are open moderation reports, this card will show in the Action Centre.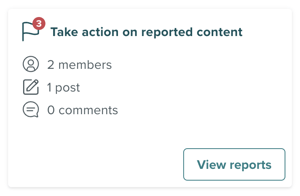 Once all reports have been handled as needed and closed, the card will disappear. It will show again the next time there are new reports of content or members.
The card also shows you a quick total of the open reports and the button links you to the Moderation page, to allow you to review open reports.
Learn more about managing reported content here.
App updates:
Making sure your members have the latest version of your App means they have the latest features and bug fixes.
When there is a newer version of your Apple or Android App available to build and release, this card will show.
If only one platform has an update available, only that will be mentioned on the card, so you can quickly see if there are updates for one or both platforms.
Once you have updated your app to the latest version, the card will disappear. The button takes you to the App Updates page to build and release your App to the App Stores.
Learn more about How to Update your Mobile App here.
Group join requests:
Keeping on top of Group join requests helps ensure continued engagement in your private Groups.
When there are outstanding requests to join a private Group, this card will show.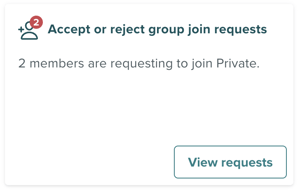 The card shows the oldest join requests for a Group and links you to the Console page where you can review and accept/reject these. When there are no requests to join any Groups, the card will disappear.
Learn more about Groups here.
Posts without comments:
Reviewing Posts without comments to engage or facilitate replies helps to stimulate conversation.
This card shows when there are Posts from the last 7 days without any comments.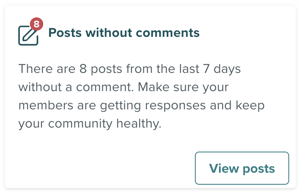 There may be a good reason for a Post to have no comments, but we recommend you regularly review this to see if there is any action required on your part. You may wish to reply or invite other members to engage in the conversation.
This card will disappear if there are no Posts without replies in the last 7 days.
Clicking the button on this card takes you to the Posts page filtered to only show Posts without comments, so you can quickly review if there are any actions you need to take.
Learn more about Posts here.
No scheduled content:
Planning and scheduling content ensures there is always relevant and interesting content for members to engage with, and encourages members to engage and share their own content.
This card shows when no Group in your Community has any content scheduled over the next 7 days.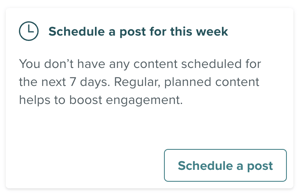 The button on this card takes you to the Console Posts page to draft a new post. Scheduling any post in any group will remove this card.
Want to see other cards?
We are always open to feedback and suggestions here at Disciple Media, if you have an idea for other activities you want to see in the Action Centre, let us know.