Here you'll find out about the features available on Disciple's community platform.
Watch our demo video to see how a Disciple-powered community platform works.
Put simply, the Disciple platform consists of two parts:
The Disciple Console, which you can access to manage your content and community using a desktop computer. This is your personal dashboard where you can manage the data, content and members of your community. This is your own personal space that only you (and your team) control.
And the Disciple-powered community platform your members will use to connect with you and other community members. Your app will have the features and branding you choose – it'll be your own branded community, available either on both iOS and Android (for the Mobile App Plan) or as a web app your members can save onto their device (for the Web Plan).
This article covers the features you and your community members will find in your app.
Contents:
First let's talk terminology:
Host – that's you! A community leader whose brand and content provides the main purpose of your community platform.
Member – an individual who joins your community and is able to interact with its features and content.
Feed – a vertical wall of posts from you or your members.
Notification – a notification that appears on your member's device.
In-App Purchase (IAP) – a digital purchase via the Apple and Google App Stores that gives members access to your community's premium content.
Paywall – messaging that precedes IAP to let your members know that there's premium content.
Call to Action (CTA) – a link or button that prompts your members to perform an action.
Deeplink – a link that takes you from one area of your community platform to another.
Your community members' experience
Let's start with your members' community experience, step by step, from downloading and launching your app from one of the app stores, through registration and onto the ways you can publish content, connect your community, and create revenues.
Launch screen
Once someone has downloaded your app from one of the app stores and opened it, the first thing your members will see is the launch screen. This will be skinned to present your brand. This screen is shown for a few seconds while the app is loading in the background. Please note, this image can only be changed with an app update.
The registration process
Your members will be prompted to login or sign up. To sign up, all they need is an email address and a password before deciding on their username and adding a profile picture. After choosing whether or not they want to see notifications from the app, they're good to go.
Following Apple's App Store guidelines, members can also choose to skip the registration process. This will limit the levels of interaction available to your members. For example, they will not be able to comment or post without registering.
We also offer email verification. If this is turned on, the member will receive an email with a link which they will need to click on to validate their email address and become a verified member.
​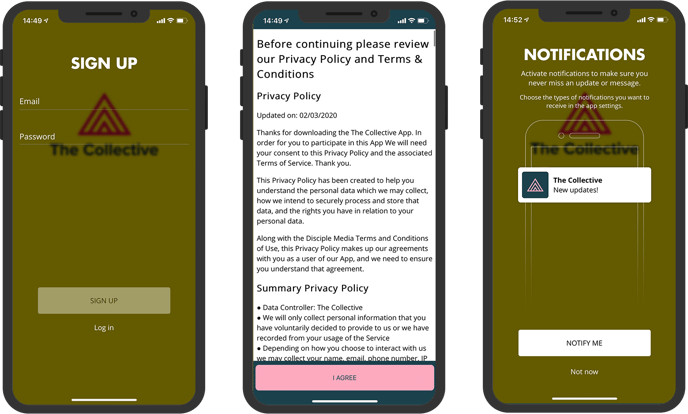 Here you can see the process members experience when they sign up
Invite-only
We also offer the ability to only allow specific people to become a member of your community. With our invite-only feature, you can send invitation emails from the Disciple Console to specific people who can then register their profile using a discrete web portal.
If someone downloads an invite-only app from one of the App Stores, they will not be able to access the community without that invite. The only option given in the app is to login.
Menu structure
Disciple uses a left hand navigation system, and supports 6 basic types of section - feeds, folders, events, messages, live streams and web links. These are the standard items featured in the left-hand navigation menu:
Member Profile
Host Feed
Community Feed
Live Stream
Archive/Media
Audio/Music library
Events
Friends & Messaging
Support FAQs
The order of these items can be changed to your liking, and the names are completely up to you. For more information on deciding your menu structure, take a look at this article.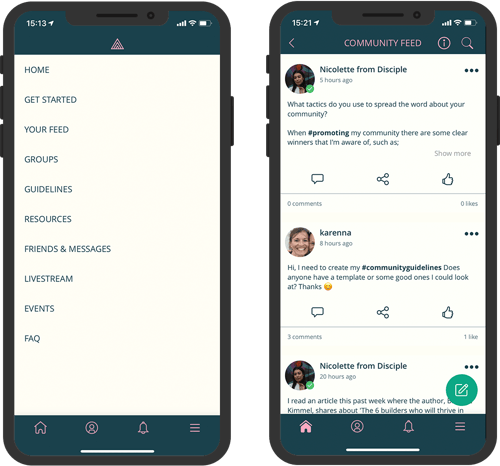 On the left you can see a typical Disciple community menu structure. And in both images you can see our bottom navigation.
The member profile
By tapping on the username or avatar at the top of the menu, members will be able to access their profile. This is where members can change their picture, as well as access general settings. Members will have the option to adjust their notification settings, change their password or logout.
In subscription or IAP based apps, members are able to view their purchase status as free or premium.
Members are able to see their own feed of posts they made on the community feed. All members can also visit another member's profile to view the content they have posted and send a friend request.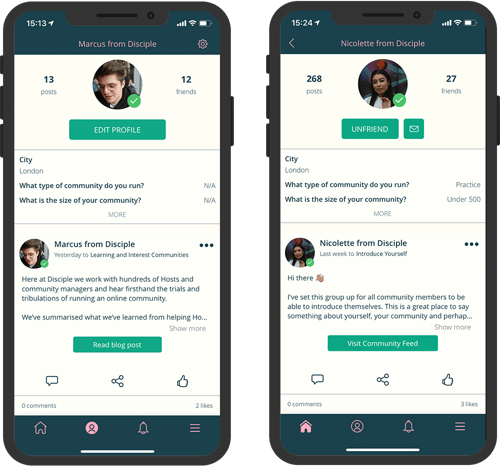 On the left is what members will see on their own profile. And on the right is what they'll see when they open another member's profile.
Host feed
The host feed is a restricted type of feed used for 'official' content. Only members with specific administration permissions can post to it. This is typically the host and key admins.
There can be more than one host feed. This works particularly well if a host wants to segment themes of content. For example, Luke Bryan's band have their own feed, called the LBO (Luke Bryan Organisation).
Posts
A range of content can be posted to a host's feed, including text, video, images, weblinks, in-app deep-links, polls and GIFs (supported by giphy.com). All media posts can have a text description.
Posts on the host's feed can be flagged as sponsored, for instance, if you have a paid partnership with another organisation.

On the right you can see the Show as a Sponsored post toggle. And you can see the Sponsored tag on the post to the right.
Each post can trigger a standard or custom text notification. Standard notifications are generated by the type of content shared. For example, for text it is "Community ABC posted an update." Custom text notifications are more flexible and can contain any text. We recommend keeping a notifications to less than 80 characters in order for the recipient to see the full message on lock screens.
When a post is shared via social networks or email, a web view of the post page is automatically generated, displaying the post, comments and marketing information on how to download your app. You can, however, make posts 'exclusive' which turns off the sharing option and keeps content only available in your app.
An immersive feed is another type of host feed where content is displayed in full screen mode with minimal copy / text to accompany this. This format is similar to Snapchat or Instagram stories.
​Community feed
The simple difference between a host feed and a community feed is this is a space for members to tell their story - it is unrestricted and members can publish their own content into this feed. Members can comment on any post with text, photos, memes and GIFs, just as they can on the host's feed.
Community feed posts can be selected by a hottest / latest filter at the top. Hottest posts are the 'best' posts, defined by the number of likes, comments and shares they receive within a certain time period.
The "latest" tab simply display posts in a chronological order.
If you really like a certain member's post it's possible to boost that post to the top of the hottest section via the Console. 😉🔥
Connecting members
We've developed a variety of ways for members to connect with you and with others.
For example, we use an @mentions system. Hosts and members can tag other community members in the text or comment of a post. Tagged members will then receive a notification telling them they've been mentioned. By visiting a members' profile, you can also choose to follow that member and will be notified when they post.
We also use hashtags & hashtags search. When a member is creating a hashtag in their post (#) they can also see existing hashtags to carry on the trend. Members are able to search for existing hashtags and if a member clicks on a specific hashtag, this will generate a separate feed for this hashtag.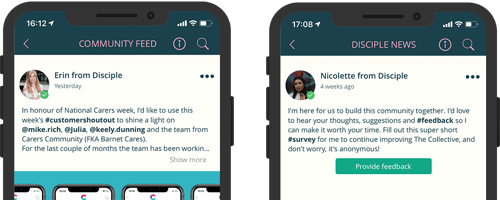 Here's some great use of @mentions and #hashtags.
Managing members
We care about maintaining positive relationships between members, but sometimes some people may not want to hear from others. To support those members, they can report and block other member's posts if they need to.
There's many other ways of managing and moderating posts and content from community members, through the Console.
Friends & Messaging
Click on another member's name or avatar to add them as a friend directly from their user profile. If accepted by that member, you will be able to start a direct messaging conversation. You can also search for other members based on their username.
Host profiles have the option to allow invitations to connect or disable invitations, depending on how accessible you want to be by your community members.
To encourage positive community behaviours, we set up a 'welcome' message alerting members to key features in the app such as how to add friends or how to stay safe online.
Private messages are not available to view in the Console due to privacy regulations but are logged for admin access if required.
Livestreaming
Live stream is a live video section of your app where hosts can broadcast live from their phone.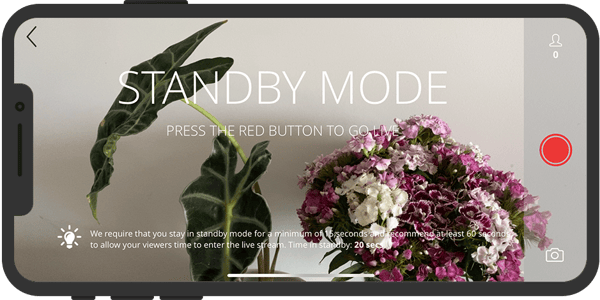 To start live streaming, the host will press the 'go live' button on the hosts app interface – this will trigger a notification to all members saying "[app name] is streaming now".
You can then press 'go live' again to confirm, starting the stream. Once the stream has started, you're able to see how many people are watching the stream.
Members can send comments in live chat which you will see on your screen and all other members see on their screens to enable direct communication between host and members.
Usually there is chat limit set to 200-500 members. This is to keep the chat feed readable for all members.
After the live stream is over, the video, the viewing numbers and all chat comments are saved to the Console and can be retrieved and reposted into your app from there.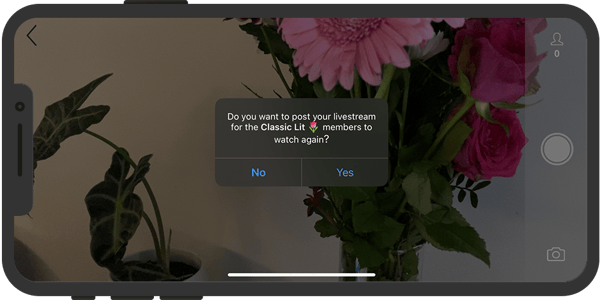 When there is no live stream, the broadcast box displays No live stream happening right now message. This message can be customised in the Console to say something else. You might want to for example, provide information on when the next live stream is happening.
Folders
Folders is unsurprisingly a folder-based system of presenting media in your app. You can have multiple folder sections in your app, that are named differently in the left hand navigation.
Folders can contain sub-folders. A folder can either contain either sub-folders or digital assets, but not both.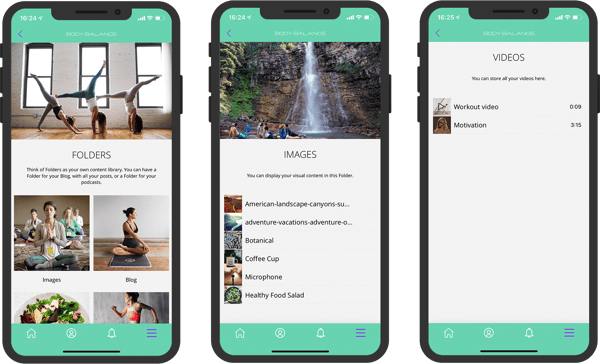 (L-R) Here's an example of a Folders main page, an Images folder and a Videos folder.
The structure and content of the folder or folders can be edited in the Console in real time.
Access to each folder or folder's content can be restricted by a paywall, allowing you to monetise specific content.​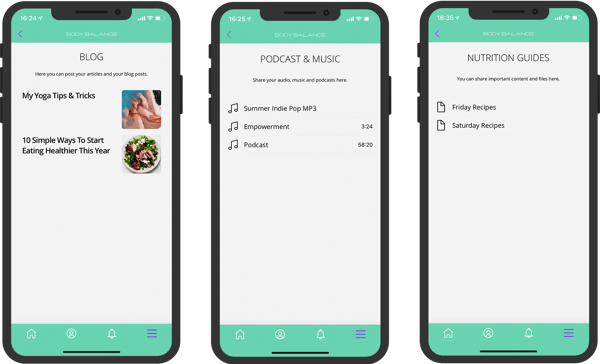 (L-R) Examples of Blog, Audio and Document folders.
Content in folders can be displayed in 3 ways:
As a vertical list with file names.
As a gallery with no file names.
As a list containing articles and their thumbnails.
Folders can also link to external web pages or a specific section in the app.
Each folder can contain these types of content:
Images
Videos
Documents (PDF files. These can be shared or added to reading list / bookmarks on iOS in a similar way to iBooks)
Audio (Tracks etc. This will continue playing when the member leaves the folder, allowing them to continue listening when moving around the app)
Articles (long-form blog-type view consisting of text, images and videos. This is fully customisable in the Console and includes a selection of formatting options)
__________________________________________________________________
Looking to create your own community app? Contact our Community Experts - info@disciplemedia.com
Need help with your existing Disciple powered community? Contact our Customer Support team - help@disciplemedia.com