If you're planning on monetising through Shopify integration, bookmark this guide.
Integrating with Shopify is a great way to showcase your products through posts on the app.
​
First of all you'll need to invite us to your Shopify account as an admin. Make sure you tell your Customer Success Manager once you've invited us. The email address to invite is:
 shopifyaccounts@disciplemedia.com
Once your Customer Success Manager has let you know Shopify has been set up, go onto the CMS and create a new post.
You might want to add a description of your product in the content section, and upload a photo so people can take a look at what they're purchasing.
Next, scroll down to the action button section and fill in the sections like so, including the Shopify URL and Shopify Product Name:
You can find your Shopify URL by clicking on View on the Shopify product page in Shopify admin.
​Once you're happy, publish your post.
The one-click user journey for iPhone payments will look like this: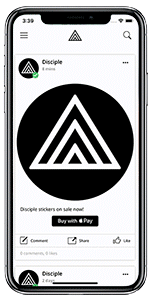 ​At the moment, Android does not support one-click payments but a neat pop up will allow you to make the payment instead.