Whether you're new to the Console or just want a refresher, here's your guide to how to use it.
The Console is your community's control centre. It's where you manage your Groups, content, Members and more.
Disciple Console Training Webinar
For a full introduction to the Console here's a recording of one of our Disciple Console Training Webinar.
Invite Members
This is where you can invite Members to your community. You can do this by sharing the signup link or by sending out invitation emails directly from the Console.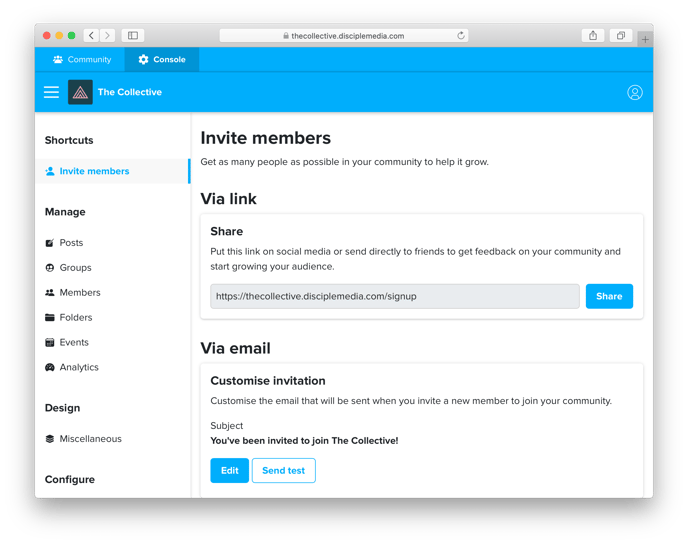 Posts
On the Posts page you can see all of your posts to each of your Groups – you can scroll through your Groups at the top of the page. Below that you can create, publish and schedule your posts on this page. You'll also see a list of your scheduled posts on this page.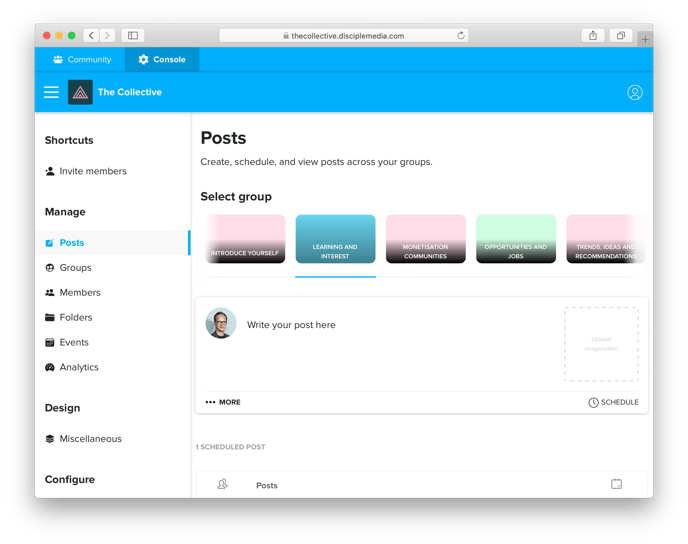 Groups
From this page you can create new Groups and manage your existing Groups. Click Create new in the top-right corner to create new groups. To change existing Groups' settings, click Edit in the relevant Group's panel.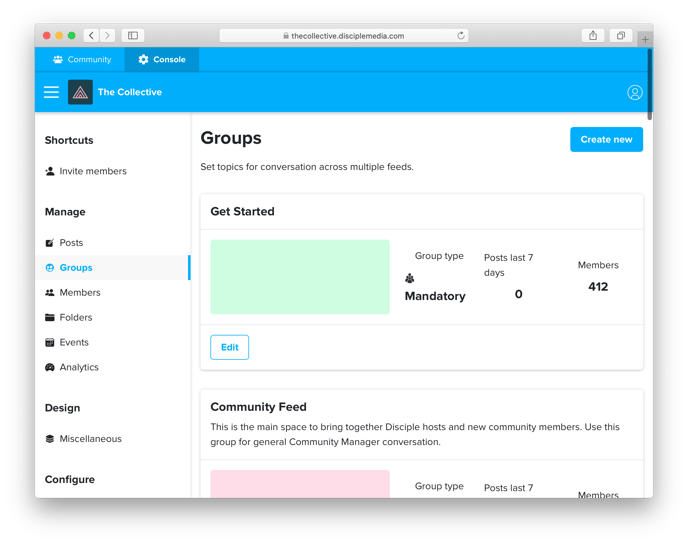 Members
From the Members page you can invite new Members and manage your existing Members. You'll see a list of your current Members with your newest Members at the top.
By clicking on a Member you'll be taken to the page where you can see more info on that Member's engagement with your community. You'll also see the Groups that Member is part of – you can add them to or remove them from Groups and give them admin permissions for specific Groups if you need to. And you can send a direct message to the Member from this page.
This is also where you can moderate your Members. You can disable or delete their account, and you can 'shadowban' them. You can also send them password reset email.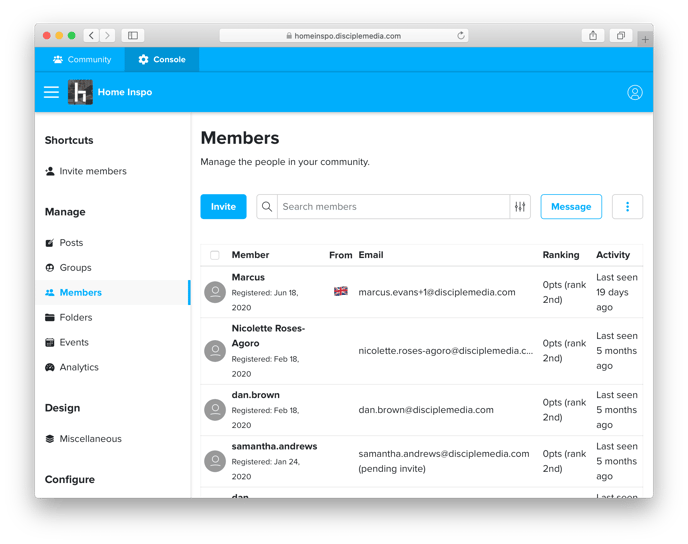 Folders
Your content lives in Folders. Think of it as your content library. Here you can store your images, videos, audio files, PDFs and links out to external content. There's no limit to the number of Folders you can create.
There are also different layouts you can use to present your content.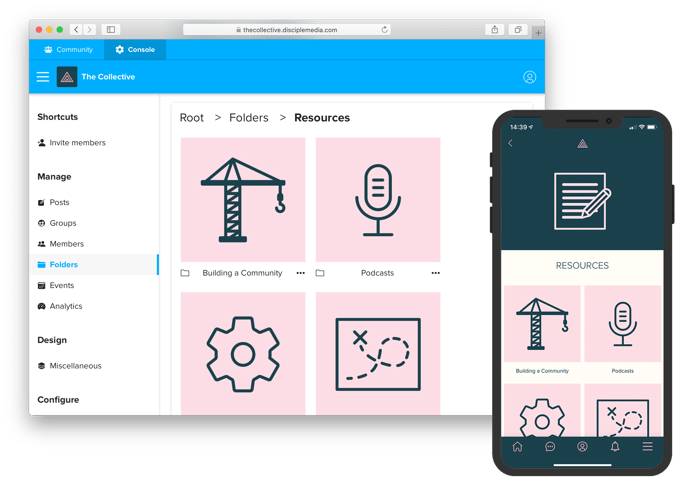 Events
The Events section is where your Members will find details on all of your upcoming and past events. When you click on an event from the Console you can edit the Event's information and add things like a button and an attendee list. From here you can also see which of your members have said they'll be attending and which haven't.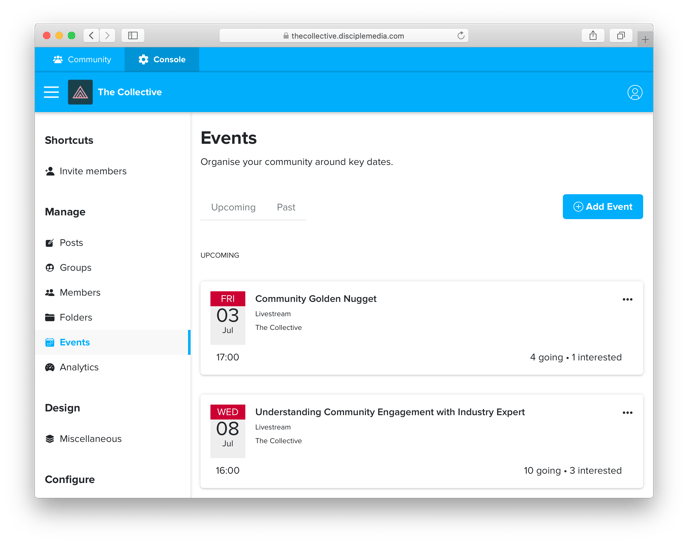 Analytics
On your Analytics dashboard you can see key real-time metrics from your community.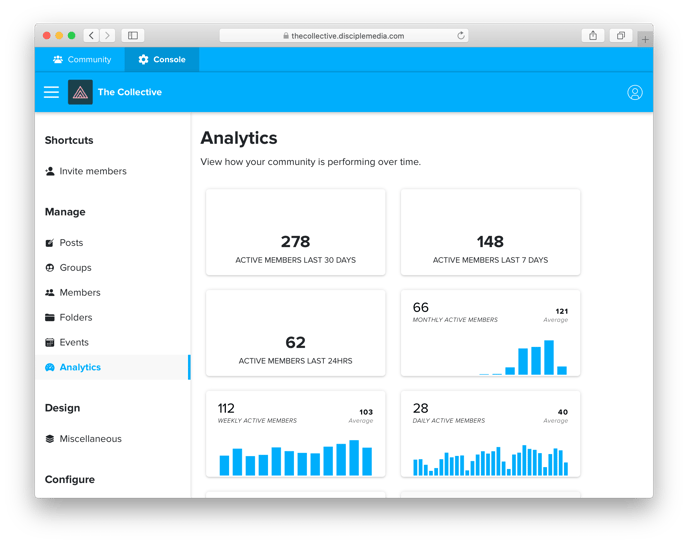 Check out our Console Guides for in-depth information on the Console's features.