Here's how you can set up a YouTube integration with your community.
Setting up an integration with YouTube gives you an even better way to post your video content to your community.
Before we start
There are a couple of very important points to keep in mind:
The account you use for the setup, Youtube and Google API, must use the same email (logged in, in the top right hand corner of both YouTube and Google.
and...
You must own the videos you post using this integration. If you don't, Google may shut down your community.
How to set up my YouTube integration
If you don't already have one, set up a YouTube channel.
When you have done this go to your channel page and copy the URL. The URL should look something like this: https://www.youtube.com/channel/UCECQb2hDovOrHZ_gQD1-1vw
You can also find this channel code in YouTube's Advanced Settings.
Keep your URL safe as you'll need it with the API key you're about to create.
Setting up your API through Google
Once you have a YouTube channel we can now connect it to your community. To do this we need to set up an API link through Google.
Next you'll need to enable the API. To do this go to Services and find YouTube Data API. You can find this in the top bar menu in the Google Dashboard.
Select Enable APIs and Services. Search for YouTube Data API and enable it.
Now you need to create credentials. Select Credentials in your project's left-hand menu. Then click Create Credentials. Alternatively you can create credentials by clicking Create Credentials on the API overview page.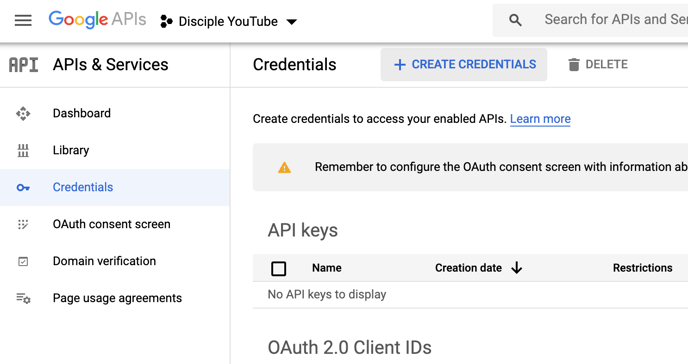 Click API key in the Create Credentials drop-down, and you'll see your key like this.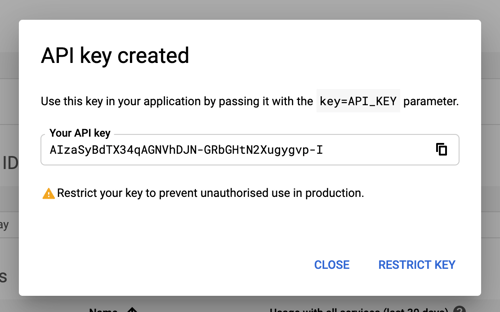 Keep your API key safe – we'll need this later.
Next we need to configure consent. Back in your project's dashboard select Oath consent screen from the left-hand menu.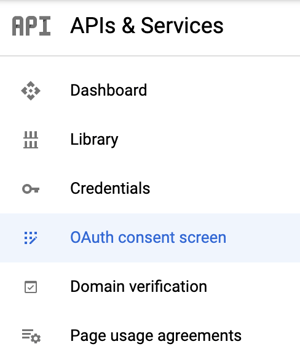 Enter your App name and make it Public.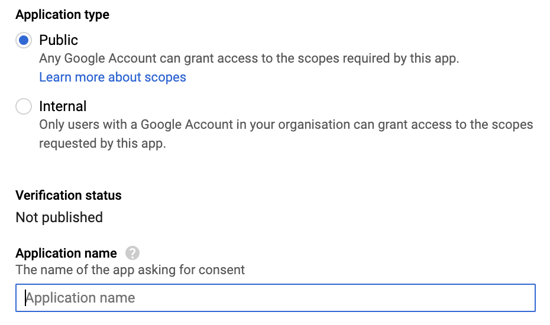 And that's it 🎉
What's next?
Please send your API key and YouTube profile URL to your Disciple Customer Success Manager.
We'll use your YouTube profile URL and the Google API key to connect your profile so that you can start posting your awesome videos in your app!