Immersive feeds give you the opportunity to share full screen content, whether that's images, videos or text.
If you have an immersive feed on your app, you may use it for a variety of different reasons. Some use it similar to Instagram stories, or to showcase awesome products in all their high-res glory.
Here are some tips and tricks to get you started:
1. There is no perfect size for an immersive video or image. For instance, if you're viewing on a newer device with a large screen, it's going to be different if you were to look at it from a smaller iPhone.
2. For that reason, we advise you to use as high quality portrait piece of content. If you're looking for a specific pixel ratio, 1242 x 2208 is what we would recommend.
3. You can add multiple videos and pictures per post (yes, I know!!), and these can be explored using a swipe up movement.
4. Although you can overlay text onto your uploaded image from a post, we know people like to get creative and use their own fonts. Free sites like Canva allow you to create gorgeous infographics in whatever size you want - just make sure you leave enough border space so it can be optimised for other devices. For instance: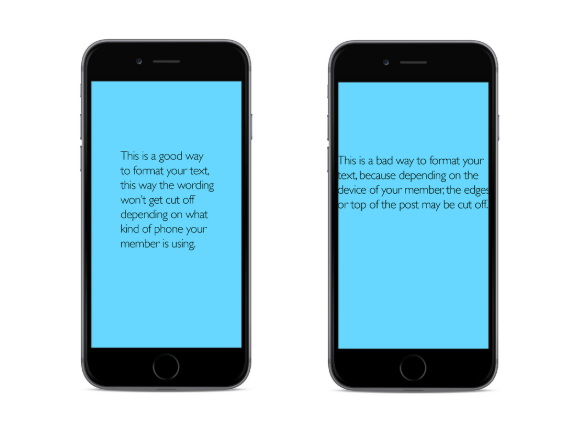 __________________________________________________________________
Looking to create your own community app? Contact our Community Experts - info@disciplemedia.com
Need help with your existing Disciple powered community? Contact our Customer Support team - help@disciplemedia.com