Immersive feeds give you the opportunity to share full-screen content, whether that's images, videos or text.
If you have an immersive feed on your app, you may use it for a variety of different reasons. Some use it in a similar way to Instagram stories or to showcase awesome products in all their high-res glory.
Here are some tips and tricks to get you started:
There is no perfect size for an immersive video or image. For instance, if you're viewing on a newer device with a large screen, it's going to be different if you were to look at it from a smaller device.
For that reason, we advise you to use high-res content in portrait orientation. If you're looking for a specific pixel ratio, 1080x1920px is what we recommend.
You can add multiple videos and pictures per post and these can be explored using a swipe up movement.
Although you can overlay text onto your uploaded image from a post, we know people like to get creative and use their own fonts. Free sites like Canva allow you to create gorgeous infographics in whatever size you want – just make sure you leave enough border space so it can be optimised for other devices. For instance: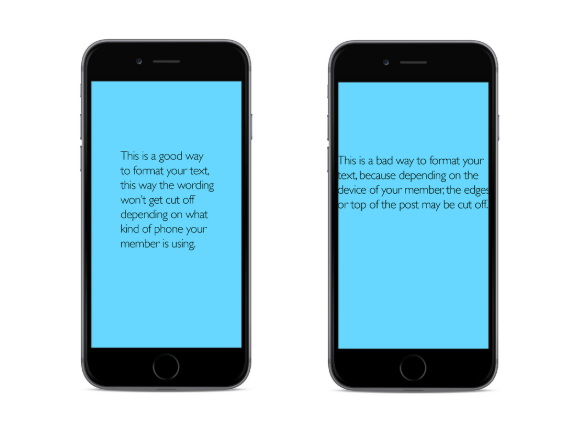 Extra hot tip: remember to turn off Push Notifications in this group to ensure you're not spamming your members with each new post you create!
__________________________________________________________________
Looking to create your own community app? Contact our Community Experts - info@disciplemedia.com
Need help with your existing Disciple powered community? Contact our Customer Support team - help@disciplemedia.com