Polls are a great way to get your community engaging within the app. It gives you the opportunity to pose a question with between two and four answer options to understand the preferences and opinions of your members.
How do I create a poll?
Here's a short video explanation of how to create a poll.
To create a post, enter your poll question into the post creation box on the Posts page. Click More just below the text box where you write a post, then click Add poll.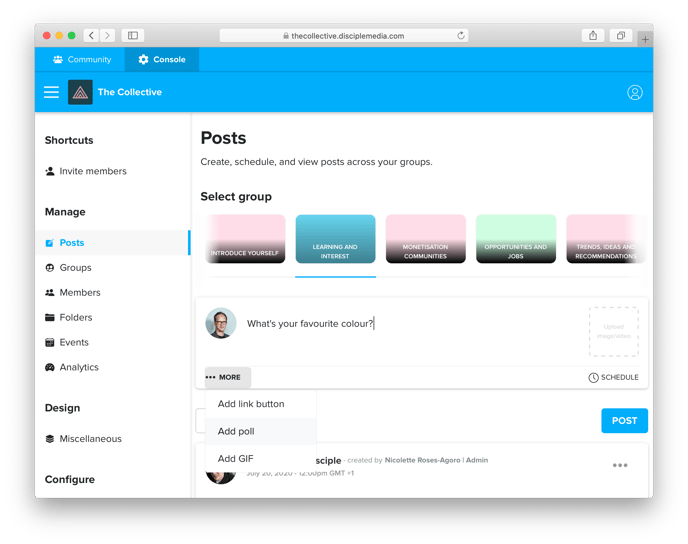 You can then enter up to four answers to your poll.
By clicking the calendar icon just below the last option, you can set the time and date your poll will stop accepting results. Or you can leave the Never ends setting to keep it active. If you select an end time for the poll, you can also select whether or not to hide the results from everyone until the poll ends.
If you click the cog icon to the bottom-left of the poll module, you can choose some more options. You can show the poll as a Sponsored post it you're working with a partner on this content. You can set whether or not Members need to vote to see the current results of the poll. You can pin the poll to the top of a Group's feed. And you can set the poll to show for a device-specific audience (iOS or Android).
Poll results are anonymous – it's not possible to see how an individual Member has voted.
Here's how members see polls on Mobile Apps: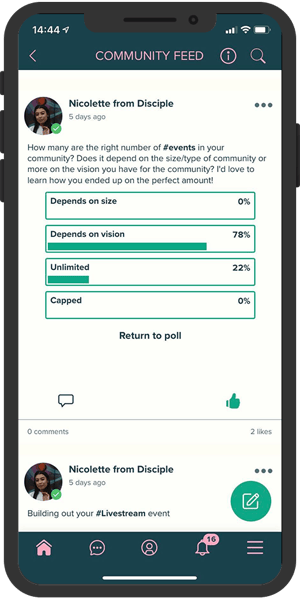 ---
Looking to create your own community app? Contact our Community Experts - info@disciplemedia.com
Need help with your existing Disciple powered community? Contact our Customer Support team - help@disciplemedia.com