This foolproof method makes it easy to set up a Google Developer Account.
What is a Google Developer Account and why do I need one?
Did you know that the Google PlayStore dominates the mobile market with 900 million users? Many of these users are actively looking for new interesting apps to download
Having an account gives you an amazing opportunity to profit from this nearly 1 billion strong community
Time: It takes around 3 minutes to go through the application process and your account should be ready in 1-7 working days
Charge: Google will ask you to pay $25

for your Google Developer Account
Follow these few, simple steps and you'll have your Google Developer account in no time:
Step 1

Visit this page and enter your Google/Gmail credentials.
(If you don't have a basic Google/Gmail Account you can create one here )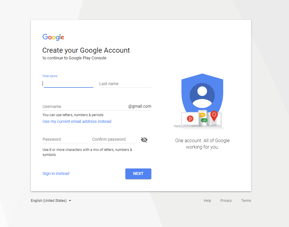 Step 2
Accept Google's developer agreement.

Step 3

Enter your credit card information and click 'Buy'. Simple isn't it?

Step 4
When Google approves your account (can take between 1-7 working days), you will receive a confirmation email. Follow the steps in the email to finish the setup.

⭐Sweet!You should now have both Google, and organizational Apple Developer Accounts, let's link up⭐
Now link your Developer Accounts to Disciple so that we can install the Disciple platform. Follow these simple steps to link your accounts to ours 🔗
You can find more information by visiting Apple's support site and Google's support site.
__________________________________________________________________
Looking to create your own community app? Contact our Community Experts - info@disciplemedia.com
Need help with your existing Disciple powered community? Contact our Customer Support team - help@disciplemedia.com