PassKey is a Two Factor Authentication system that allows you to keep your Console account more secure.
PassKey is the current industry standard in login security and you will likely already be using it for many of your day to day online interactions. Ever logged in to your online banking with FaceID or a Fingerprint? That's PassKey.
We are using PassKey to act as a second layer of Console account security, to replace Authy as a form of Two Factor Authentication (2FA).
As a default, your Console account settings will have email set as your form of 2FA. You log in, then wait for a code to be emailed to you so that you can verify the email and password you used.
Going forward, you can change this to PassKey and use a biometric to act as your second form of authentication.
As of 28th June 2023, PassKey will be made available and we will no longer be supporting the use of Authy for 2FA. Your account will be verified by an email code until you enable PassKey for your account.
How do I set up PassKey?
We have made PassKey a quick set up process, to get you back to doing what you love – nourishing your Community!
Simply log in to your Console and then tap the three dots at the top right of your Console page and select My Profile.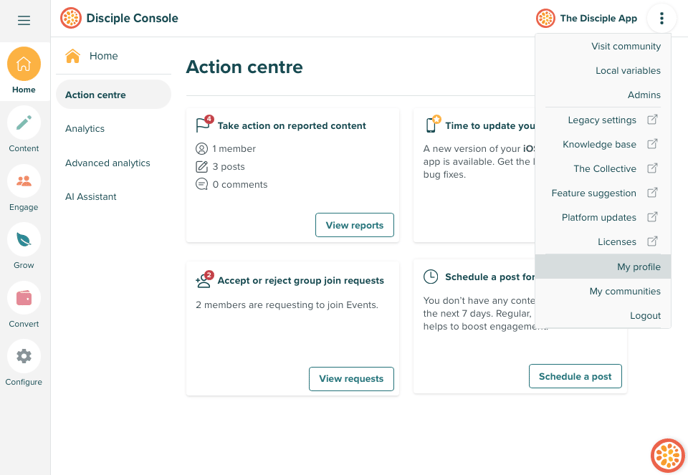 Tap on the Security tab and you can start setting up your PassKey!
Name your new PassKey, and then press Add PassKey to select a device to use for it.

Then follow the on screen prompts to continue the process.
The next time you log in to your Console, you can verify your credentials with your PassKey!