Re-engaging members is crucial in maintaining a thriving, healthy Community. A weekly email is a great way to do this!
What is the Weekly Digest Email?
It's a weekly email highlighting the most popular posts in your Community over the past 7 days. The posts that are shown are tailored specifically to the member the email has been sent out to.
That means, that the recipient of the email will only show popular posts that were made in Groups that the member is a part of.
There are some reasons as to why this email won't send to a member - click here to learn why.
The email itself:
The email will show the member the 4 most popular posts that they have missed over the previous week. These posts will be the ones with the highest engagement based on likes and comments.
Each post will have a link to it, that can take the member back to the Community so that they can join in on the conversation.
Whilst the email isn't configurable, it is specific to your Community. It will utilise images and colours that you have set in your branding, so that it is easily recognisable as being from your Community.
Enabling the Weekly Digest Email:
Head to the Console, select Engage from the left hand side menu and then choose Emails.
Here you will see the Weekly Digest Email feature, with a toggle allowing you to enable it.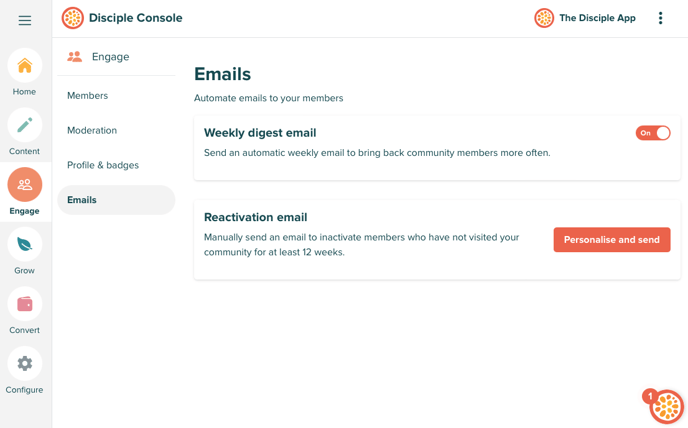 It's important to note, that this is legally a marketing email. This means that a member will need to opt in to receiving this email, before they start to receive it. Luckily, this is built in to the feature and members will receive prompts about this.
Members are initially opted-out of receiving emails from your Community, however, once the feature is enabled, a member will be asked to opt-in on their next log-in.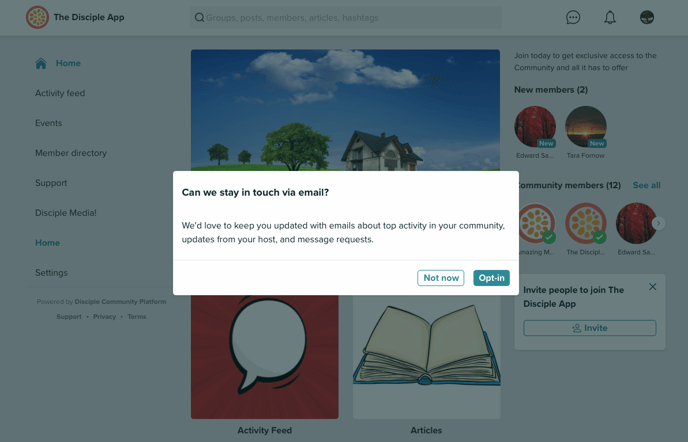 If a member chooses the not now option, they will receive prompts every 7 days about opting in. They are also able to disable these prompts should they wish to never see the message again, after the initial one.
A member is also able to amend this setting at any point, in the settings section of your Community.
Legal Docs: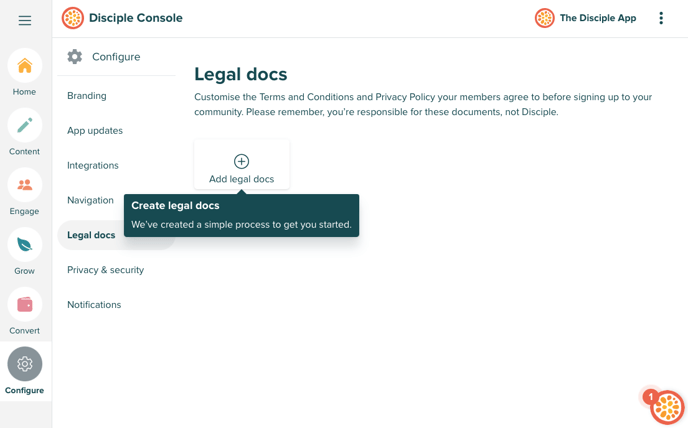 If you have set up your Community before June 2021, we would highly recommend you add in the following copy to your Privacy Policy documentation:
"Once registration is complete, we process the following information: Posts and comments in the App that you choose to make available. Please bear in mind that any posts and comments you make are in the public domain and may be viewed by non-registered users in the App, on public web pages, and by other users of the App via periodic emails showing recent App activity."
However, if you have set up your Community after June 2021, then this section is automatically added to your Privacy Policy when you first generate the document.
We would still suggest you read through the documents you generate, to make sure that you are happy with it all!
You must have set up your Terms & Conditions and Privacy Policy documents for the Weekly Digest Email feature to work.
You can learn how to do this here.
When the email won't be sent:
There are a few reasons why the Weekly Digest Email will not be sent to a member:
If the member has not opted-in to receiving emails.
If you do not have updated Terms & Conditions and Privacy Policy documents.
If there have been no posts in the past week.
If you are over your member limit plan.
If a member hasn't logged in to your Community in the past 90 days.
If you are the author of the popular content.
As ever, if you need any help, our lovely Support team are a few clicks away. You can reach out to them by emailing help@disciplemedia.com!