Profile fields allow communities to feel more personal to your members, whilst also providing you with important data. These are first asked when a new member signs up to your community, so be mindful about how many there are!
Let's begin by visiting your Console, selecting the Engage tab and clicking on the Profile & Badges tab on the left hand side.
If you have never created a profile field question before, this is the first image you will see.

Select + Add Profile Field to begin.
This will be your initial view, every time you create a new profile field ⬇️.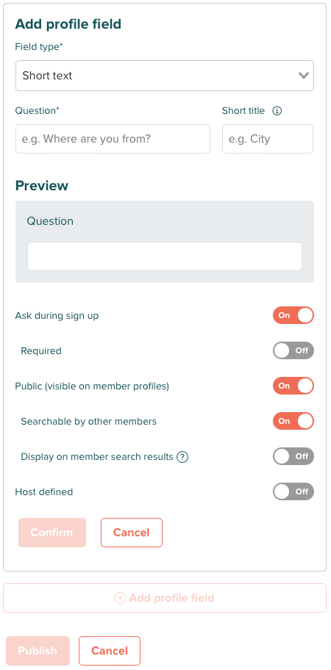 Let's break down all of the options you have available together!
Field Type:
Short text is used for asking question such as "Job Title" or "Country".

Paragraph is for more lengthy content such as "Bio" or an "About Me".

Dropdown presents multiple pre-defined options for your Member to choose from. For example, this can be used for "Employee type" with the options "Full-time", "Part-time", and "Contractor".

Date this opens up a date picker for your member, so feel free to ask questions such as "What is Your Birthday".

Number can be used for questions such as "Age" or "Years of Experience". However don't use this for "Phone number" - use Short text for that!

Link this can be used to encourage your members to paste in links, such as to their other social media profiles. For the most popular social networks we then show an icon of that site on the Member's profile.
Question and Short Title:

Simply put, the Question is what the member is answering. The Short Title, is what they will see on their profile next to their answer.
In the image below, you can see that we've opted for a Dropdown field ⬇️. The preview section will then show us how the field will appear to your members once you have set the Question and potential answer options.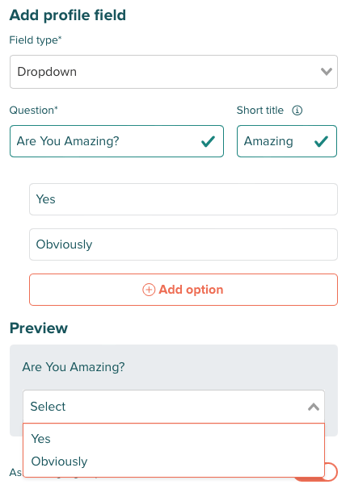 Profile Settings
Finally, you want to specify how members interact with these fields, if they are visible to every member, or just for your eyes only as a host.
A member will always be able to see a profile field created on their own profile though!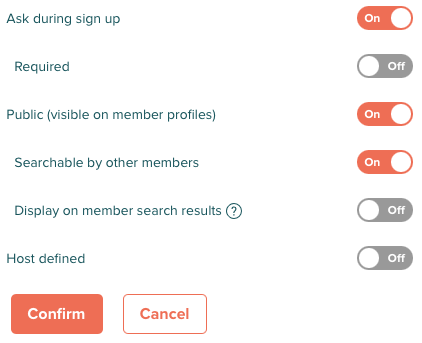 Ask During Signup prompts your members for this information upon signing up to your Community.
Required can only be turned on when Ask during sign up is turned on. This means that a member has to fill out this information before entering your community, so be careful with this, too many required questions could put people off from entering your community.
Public (visible on member profiles) means that this specific field is visible on their profile for the rest of the community to see. We recommend this setting since it helps enrich your community profiles.
Searchable by other members can only be turned on when Public (visible on member profiles) is turned on. When enabled, this information is used in the global search for members to help members find and connect with each other.
Display on member search result allow the answer to a field to appear beneath the Members profile image in the Member Directory. We wouldn't suggest turning this on for a paragraph field type.
Host defined means that this "Profile field" can only be set by you, the Host, within the Console.
Once you have completed the settings for your new Profile Field, press Confirm. Then once you have created and set all of your new Profile Fields, make sure you press 'Publish' to make them go live!
Top Tips:
If you have created a new Profiled Field, or changed the answers to a field that was already existing, an already existing member will not be prompted to fill this out or answer a new question. This is where you can use a helpful pinned post to inform your members.
If you decide to collect additional data about your users, you must consider the impact on the privacy policy for your app. It may need to be updated providing a reason and explanation behind each additional data point you will be collecting. Please contact you Community Success Manager if you are unsure. When deciding on which data points to add to the user profiles, please be mindful of the sensitivity of the data you will be collecting. For example, things like race or religious beliefs are considered to be sensitive personal information and there are additional obligations around the collection of this data. For UK customers please see additional guidance : ICO - Special Category Data.