Track how many total and unique views each folder gets
Within the goal to help you optimise the content of your folders over time, you can track how many times your members view them.
Where can folder views be found
The folder views are located on the right side of each created folder.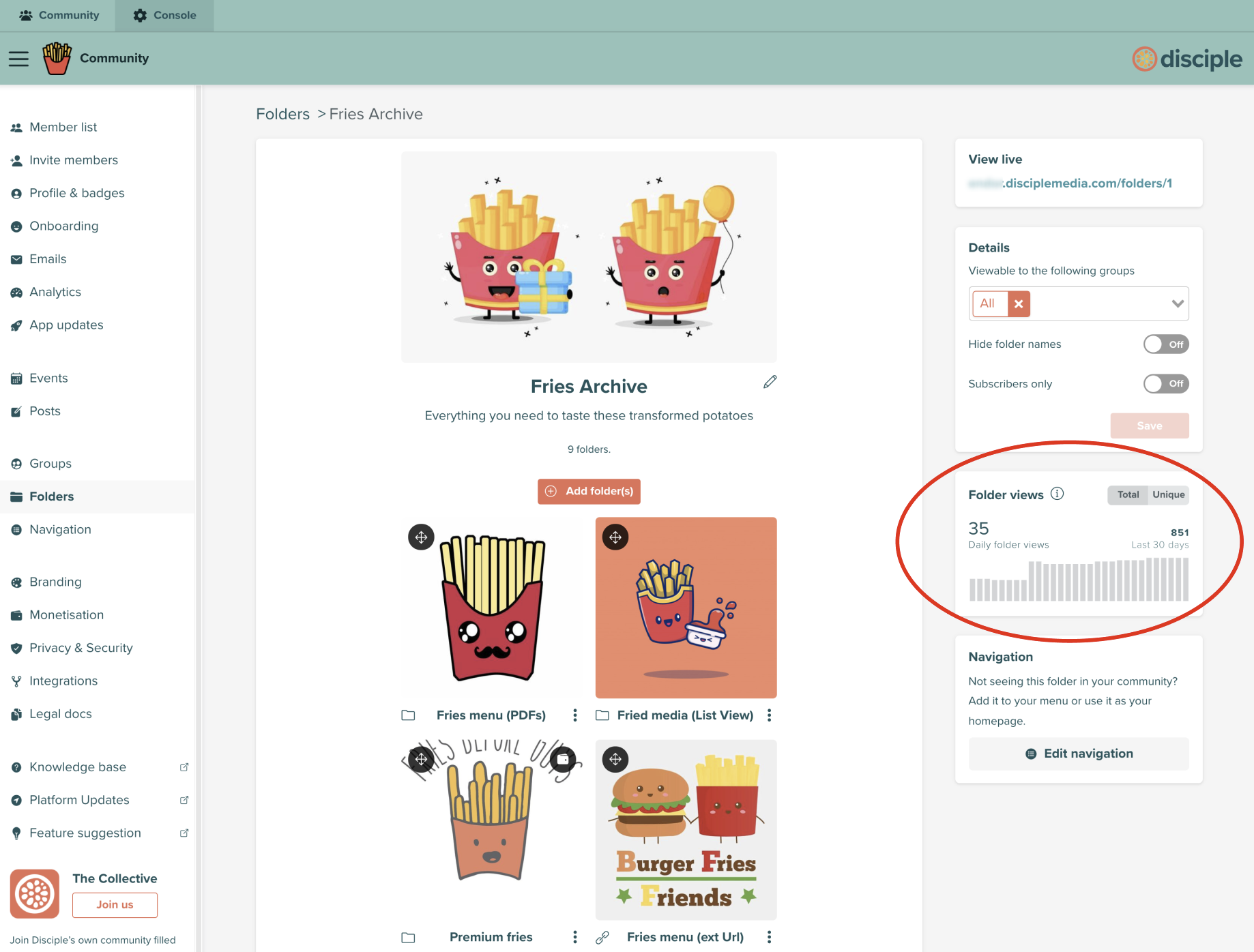 How to use folder views
Folder views can be used in different ways and different applications. It is up to you how you want to use this data. But let us give you some valuable applications you could experiment with:
Track how many daily total and unique views over the last 30 days each of your folders has had.
Monitor the change in views daily after you update the folder thumbnail or title.
Identify which folder has been the most viewed in the last 30 days.
Identify which folder has been the least viewed in the last 30 days.
Compare views between folders to understand what drives your community.
Improve the thumbnail or title of folders that aren't generating many views.
Attach a folder link to a post or a push notification and see how that affects your folder views.
Create a new folder with a link onto a higher up folder in your folders structure to see if that helps generate more views.
Use the views data to re-organise your folders structure.
What are the differences between Total views and Unique views?
Total views refer to the number of times your members have looked at a folder.

Unique views are short for "Unique member views" and refer to the unique members that have looked at a folder.
Example: When a member views a folder five times, the system will record five total views and one unique view.


You can also contrast unique views and total views to compute the average frequency of views per member of how many times your members visit a folder in the last 30 days.
In the video example above, 462 members generated 851 total views (aka "visits"). This means that, on average, your members have visited 1.84 times this folder in the last 30 days (1.84 = 851 total views / 462 unique views).
Why do we only have the last 30 days of data?
Loading data takes time. We wanted to give you the best experience possible and as much data we could. After experimenting with it, we thought 30 days of data was enough for you to compare any changes in folders you'd make to optimise your content while not having to wait more than a couple of seconds to access the data on each folder.