We're here to help you make money from your online audience. If you have a Web only community this is how you can get started with monetisation.
Where to find the monetisation feature
Head to your Console and look for the Convert section, and click on the Monetisation page in the left hand menu: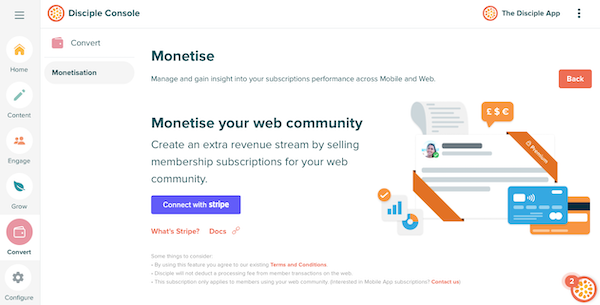 Connecting with Stripe
To create a subscription you will need to connect with the payment provider Stripe, which Disciple uses to handle all monetary transactions.
Firstly, click "Connect with Stripe". You'll then see a page like this: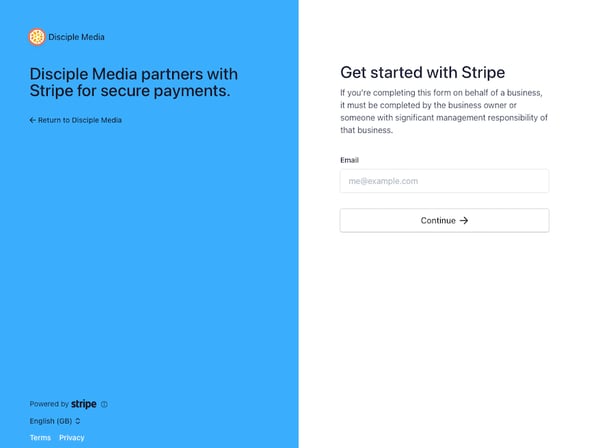 If you already have a Stripe account for business, type your email in and sign in.
If you don't already have a Stripe account for business, type in an email of your choice to start the process of setting up an account and linking it.
Set Web subscription model
The next step is to specify your subscirpiotn model.
A Soft Paywall makes the community free to join, but there will be certain content that can only be accessed through a paid subscription.
A Hard Paywall makes the community only accessible to a member that pays for the membership.
Set subscription plan details
Next, you have to define how your subscription will appear to your members on their bank statement.
Be mindful that:
- Your subscription reference prefix is pulled directly from your Stripe account. If you want to change it, that has to be done through your Stripe dashboard.
- You can add a company logo and name by customising this through your Stripe dashboard.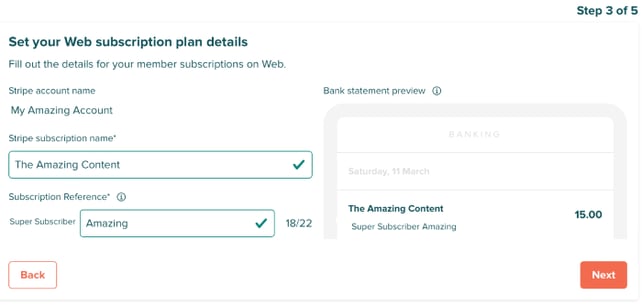 Choose your currency and price
After that, you can choose your currency and price.
Having both a monthly price and an annual price can provide your members with the freedom of flexibility.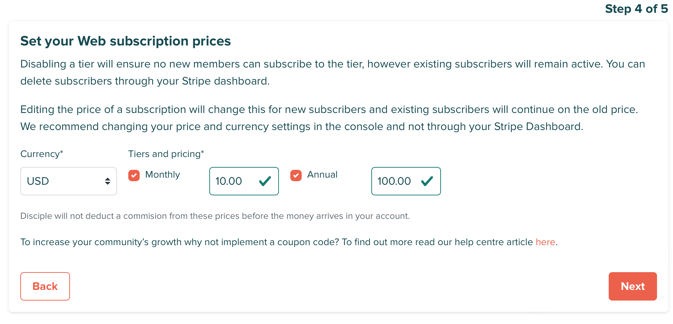 Edit your subscription description
Finally, you have the opportunity to sell your subscription plan. This is the splash screen your members will see right after they've signed up to your community.
Here's an example: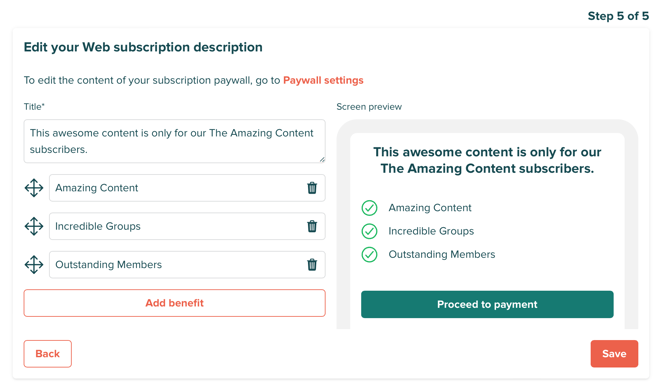 Make subscription active!
Once you're happy with the subscription plan details and subscription description, press save and then make your subscription active using the toggle in the top right hand corner of the next screen!

Don't forget: You can change any of these settings at any time, by visiting the monetisation section of the console. Just don't forget to save your changes!