Tracking your different acquisition campaigns sounds daunting. Luckily with referral links, this can become a simple process.
This is a follow up to our article on How to Invite Members to Your Community – we would suggest you learn about the Referral Links feature before you can start planning to track any acquisition campaigns.
Why use Referral Links to track a campaign's success?
To grow your Community, you might want to experiment with advertisements on different platforms. However you may currently struggle with knowing which campaign is performing the best or worst, which means you can't course correct.
Whilst most platforms will offer information on the number of click-throughs, none are likely to tell you how many successful sign ups they've generated for you.
By creating a referral link per acquisition channel or per advertisement, you'll be able to identify which platform, ad campaign or any other acquisition channel is working best for your Community.
An Example:
Create a new Referral Link and name it according to your planned acquisition campaign. Set your requirements for how the link should function and then click on Create Link.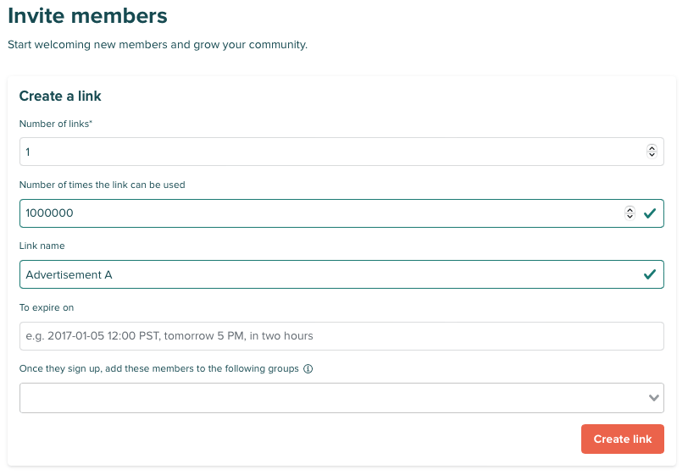 Once you share this link with your specific campaign platform, you will be able to track how many times this link was visited, and how many sign-ups came through this link.
You can even specifically see which members signed up via the specific link.
This can then tell you how successful this particular campaign was, and can be even more beneficial if you set up multiple different links for different campaigns as you can then compare them to each other.
Once you are done with a particular campaign, you are also able to disable the Referral Link by clicking on the Detailsbutton next to the link itself.
Happy campaigning!