Are you interested in selling your Course as a separate add-on to your Community? We'll guide you on the process of setting this up.
If you've spent a long time working on your Course and you've made the decision that it should be charged separately from your main Community offering, then this is the article for you.
We're going to take you through the process of monetising your Course so that members have to make a one off payment to access it.
This is a collaborative process that requires work from the Disciple Team, so allow yourself at least a week before you intend to have your monetised Course live for your members.
Ok, let's dive in!
Setting the Cost:
Head to your Console and select Content and then Courses from the left hand menu. Find your Course, click into it, then tap Course Settings at the top of the page.

Scroll to the bottom of the Course Settings panel until you reach the monetisation settings.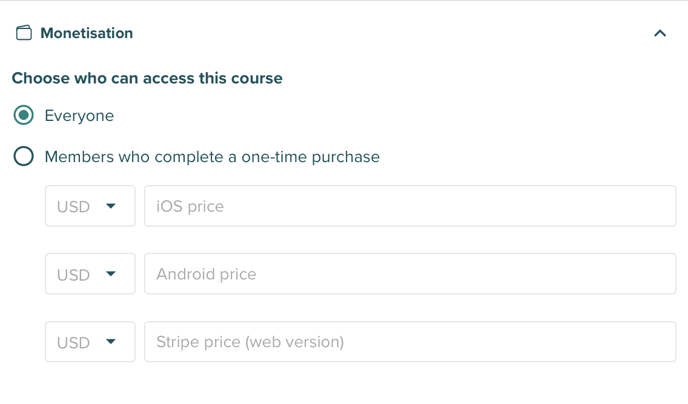 When you first create your Course, it is automatically designated as free and being available for Everyone. You can change this by tapping on the empty circle next to Members who complete a one-time purchase. This will make the settings to set a specific price for your Course available to you.
As you can see below, we've set a price for our Course that is consistent across all three services.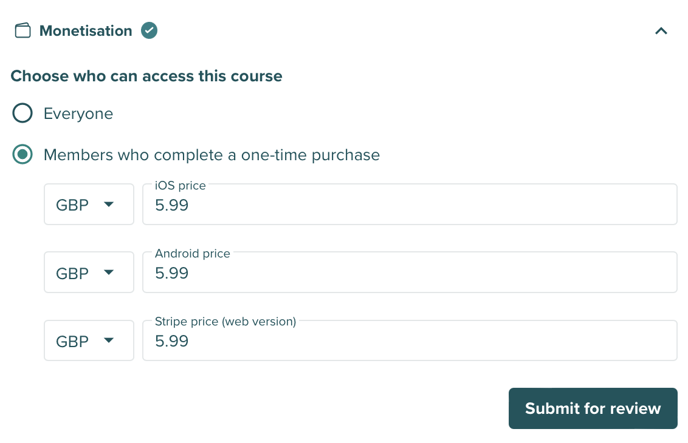 (You can technically set different prices for each platform, however, we wouldn't recommend this.)
Once you have set your price, you can press Submit for review, which will trigger a confirmation pop-out window.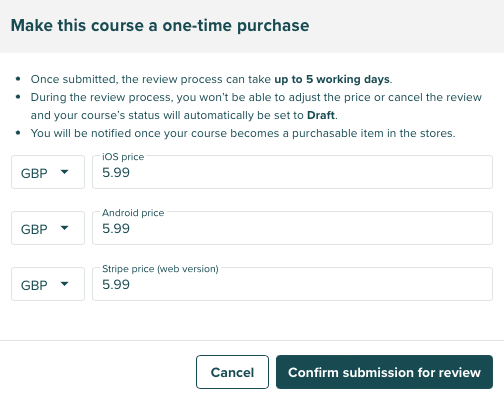 You can make any last minute tweaks here, before once again confirming the prices by pressing Confirm submission for review.
Linking your Course for Review:
iOS and Android monetisation needs to be reviewed by both Apple and Google before they can be purchased by members. To facilitate this, you will need to make your Course accessible to their reviewers by creating your Folder link to it and placing it where you want it to be in your Community.
To do this, head to the Folders section of your Console, and add a new Folder in your desired section.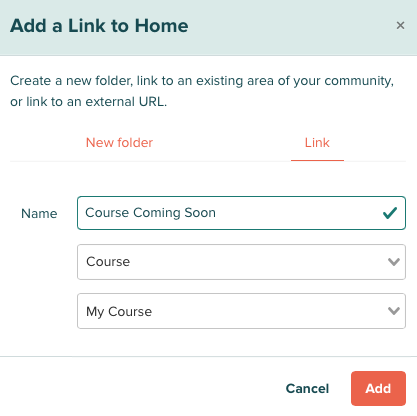 We recommend naming it Course Coming Soon or something similar, so that members who see it, will understand that it's not quite ready yet and they won't be able to access it.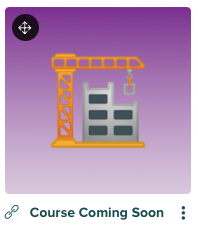 Price Review:
Once you have submitted the prices for your Course, they're reviewed in a two step process which can typically take up to 5 working days to complete.
The First Review:
Your proposed prices are first reviewed by the Disciple Team, and they'll make sure your Course is linked to a Folder and made live for the Apple and Google reviewers to access it.
Within this process, they will accept your prices and you'll see the message Course is live in the stores as a one-time purchase, indicating that the Apple and Google reviewers are now able to review it.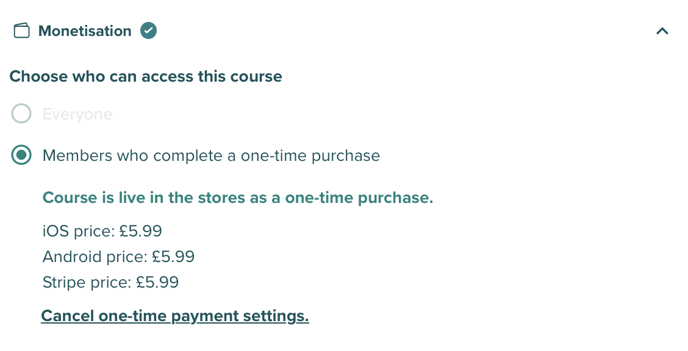 You may also receive an email indicating this.
If you are a Web only Community, at this point, your Course subscription is live and ready to be purchased as Stripe are not required to review your monetisation setup.
The Second Review:
Apple and Google will then separately review your monetisation, to make sure that the payment process works and that a member will receive what they purchase.
Once their review is complete, you'll receive an email from them to tell you it's been approved.
It's Live:
Once Apple and Google have reviewed and approved your new monetised Course, you can go back and change the title of your Folder link so that your members know to go ahead and dive in to your Course!
Updating a Course's Price:
To update the price of your Course, you must first cancel the current pricing and then submit a new set of pricing for approval. This process from start to finish will typically take 5-7 business days.
Head to the Settings of your Course, and scroll down to the monetisation section.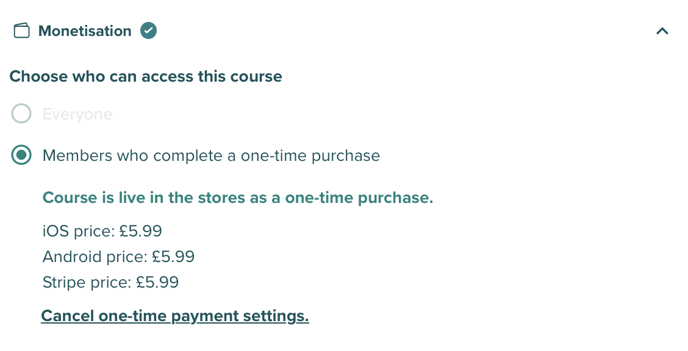 Tapping on Cancel one-time payment settings will take you to a secondary confirmation pop-out window.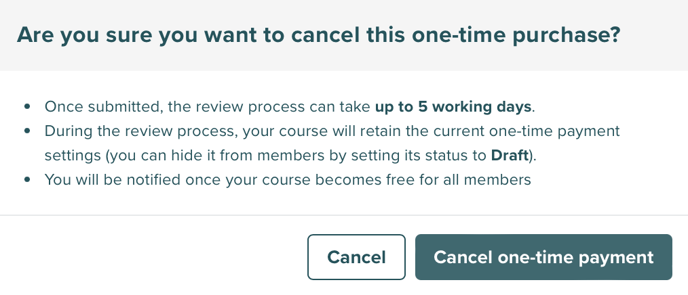 Confirm once again by clicking on Cancel one-time payment and the request will be sent to the Disciple Team for review.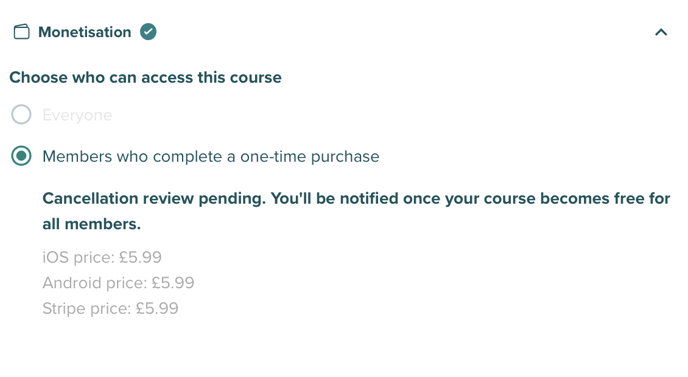 Once the removal of the pricing has been approved, your Course will automatically return to being in draft mode and not accessible. You will also receive an email to confirm this and you'll then be able to set up a new pricing plan and submit it for review.
Top Tips:
Monetising Courses is currently only available to Communities with unlimited Courses enabled for their Community.
When you make changes to your pricing plan (adding one or removing one), once the changes are made, your Course is put in draft mode.
If a member started your Course for free and you later introduce a price point for it, that member will still have free access to your Course whilst they're enrolled in it.
Your Apps need to be on the following minimum versions for them to be compatible with Courses:

iOS minimum version 4.21
Android minimum version 4.61