We all know they're not the most thrilling of reads, but Terms & Conditions and Privacy Policy documents are important for your Community!
Here at Disciple, we highly recommend that you set up and maintain Terms & Conditions and Privacy Policy documents for your members to agree to.
Luckily, we can help you set up generic documents to help you on your way. However, it's important to remember that you're responsible for your legal documents, not Disciple.
To get these set up, head to the Console, select Configure from the left hand menu and then choose Legal Docs.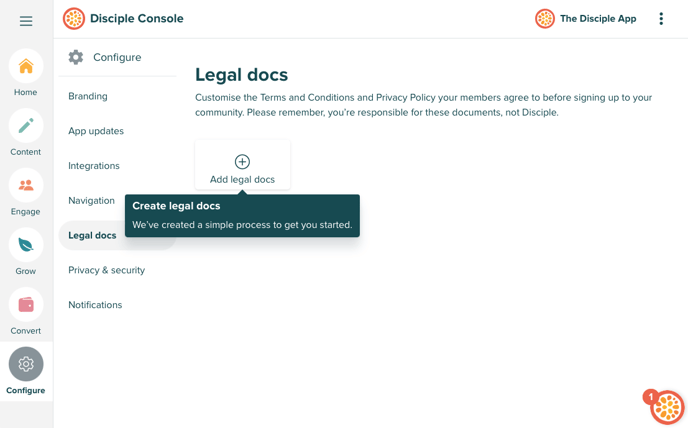 The only information you will need to start creating the documents is:
General information about the App, including its name and purpose.
Contact information should your members need to reach out to you.
Your company address details.
Once you have added in your company information, submit the information and the system will automatically generate the following two documents for you: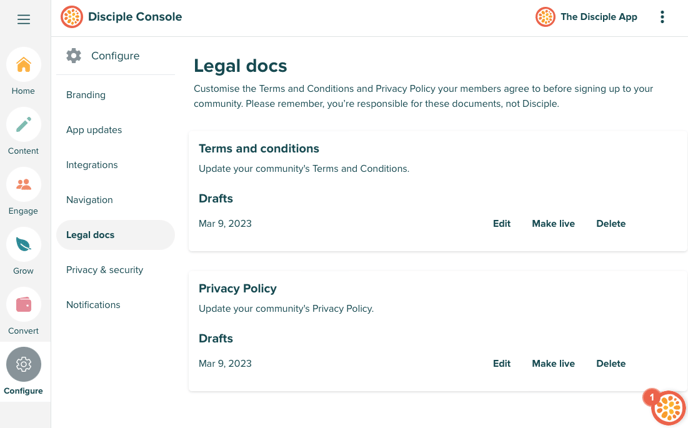 Here you can make any edits you would like to each document, and when you're ready, you can make them live!
A member will only see these documents once when they register for an account, unless you change them again in the future, in which case they will need to agree to them again.
If you ever need to start from scratch, you can always delete the created documents, and build them again!