Learn about Disciple's tools to help manage challenging members.
Here's a short video explaining the ways you can moderate individual Members of your community.
As explained in the video, in the Console you have a number of ways you can manage and moderate your Members to maintain a healthy and positive community.
Moderation queue
The Moderation section of the Console is where reports about posts or members get sent. You can use the list of reports to monitor member activity that may need you to take some moderation action on it. You can also click through to the post or member profile from the report, to further investigate if you need to warn a member for their behaviour or make some other intervention.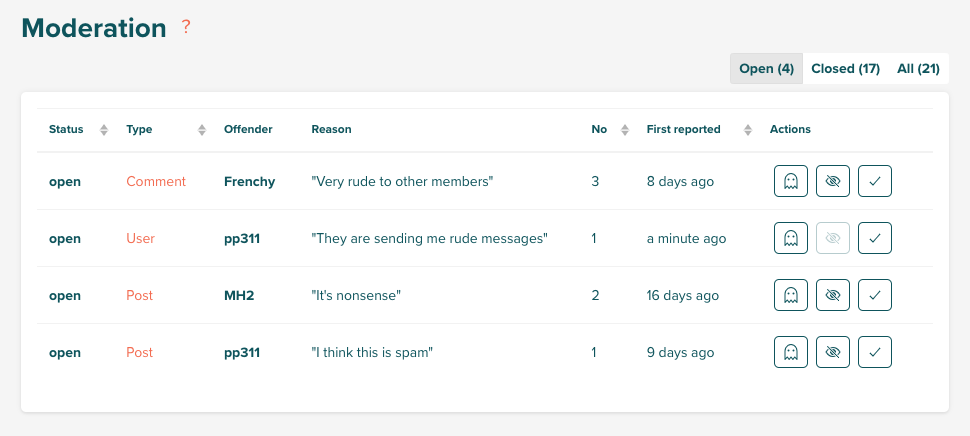 Moderation options on member profiles
To moderate your Members, click Members in the left-hand menu, find the member you wish to moderate and select the three dots to the top-right of the page.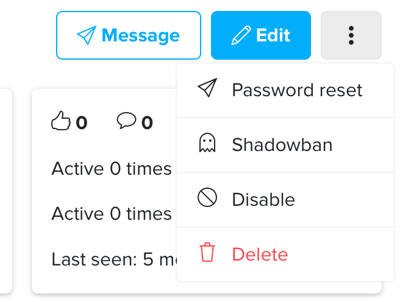 Here's what you can do at this stage:
Password reset - this will send an email to the Member prompting them to reset their password.
Shadowban - this will make this member's content invisible to the rest of the community, but they won't be notified of the shadowban. The member will still be able to post, but no-one will see their contributions. When you remove a shadowban, their content will become visible again. It's a good temporary measure if you want to review posts a member has made and unpublish some if needed.
Disable - this will disable the Member's account, but they won't be notified - they simply won't be able to log in. When you select this, you'll see a popup with the option to unpublish all of this Member's existing content.
It's important to note that this is not reversible!
Delete - if selected this will delete the member account. When clicked a popup will give you the option to unpublish all their existing content as well. When you delete a member account, they will be notified via email that their account has been deleted.
It's important to note that this is not reversible!
---
Looking to create your own community app? Contact our Community Experts - info@disciplemedia.com
Need help with your existing Disciple powered community? Contact our Customer Support team - help@disciplemedia.com