You can livestream to your Community straight from your phone. Here's how you can livestream.
We've worked hard to make our Livestreaming feature as good as it can be, and so that it beats some of the biggest names in quality and speed.
Here's how to get your livestream up and running.
1. Give your livestreamer permission to Go Live
First make sure that you have given your Member account (or the account of your designated livestreamer) the permission to livestream. In the Console go to Members and search for your livestreamer. Click on them and then select Edit. You'll then see that member's permissions, which you can switch on and off easily. To allow them to livestream, toggle Can livestream to On.

2. Choose your Group and Go Live
Then open your app and head to the Group you want to livestream to and press the posting button. You'll then see the GO LIVE button on the post creation screen - press it. Don't worry if you don't choose the right Group straight away – you'll be able to change the group on the post creation screen.
If you have Livestreaming in your side menu you can also go live from there.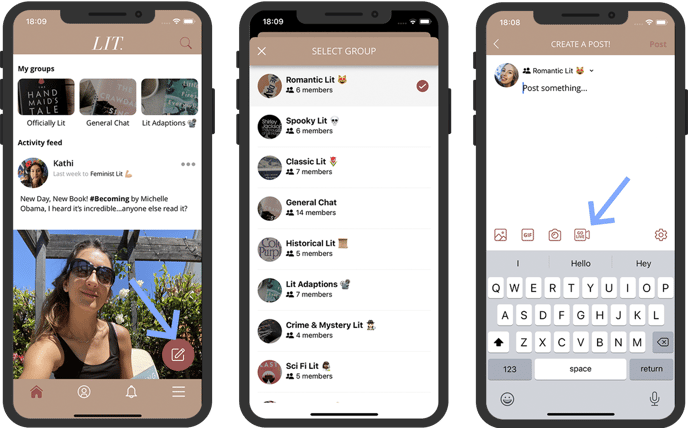 ​
3. Turn your phone to landscape
Once you've pressed the GO LIVE button, you'll see the livestream view. ​You'll need to hold your phone in landscape for the best livestream.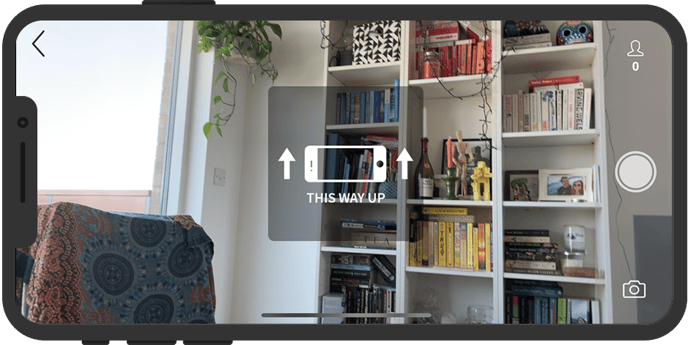 ​
4. Wait for your members to join while you're in standby mode
Tap the circular grey button at the right of the screen to enter into Standby Mode. While you're in standby mode your community will receive a Push Notification letting them know that you're about to Go Live.
​In standby mode you'll see the number of Members waiting for the livestream to begin – under the icon in the top-right corner. Don't worry – they won't see anything until you decide you're ready to livestream.
​We recommend waiting for up to 60 seconds in standby to give Members enough time to join the livestream. There's a neat little counter to help you keep track of how long you've been in standby.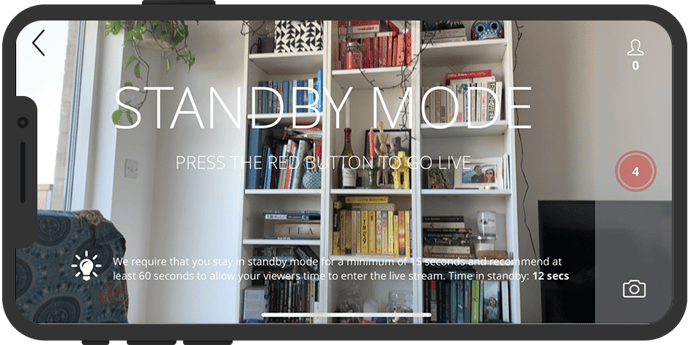 5. Press Begin Stream
When you're happy the audience is waiting for you, press the red button to go live. There'll be a final popup to make sure you're ready for your livestream. If you're ready, press Begin Stream.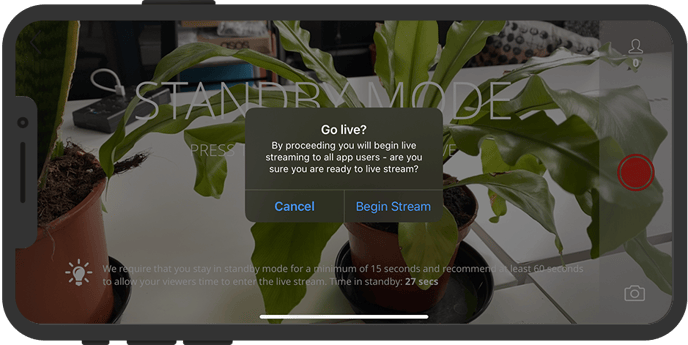 ​6. You're now livestreaming – yay!
During the stream you will see the current number of viewers in the top-right corner. Members are able to send live comments in the chat – their comments will pop up on the left-hand side of your screen while you're livestreaming.
You can also change the view from front camera to back camera using the camera icon in the bottom right-hand corner.
Remember that there'll be a 10-15 seconds latency delay on your livestream.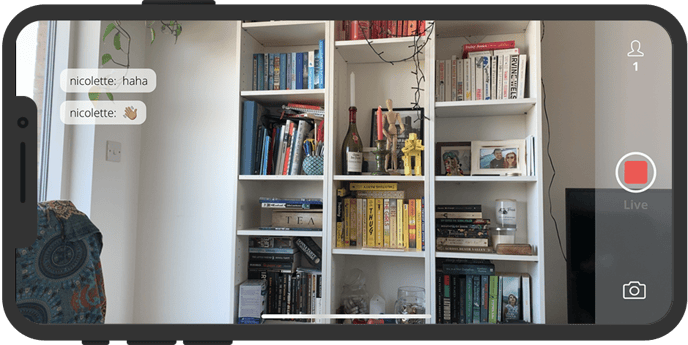 7. Post your recording to a Group if you want
When you've reached the end of your livestream, press the red button. If you then press the black arrow in the top-left corner (or just swipe back on an Android device) to go back to where you were before the livestream.
You will then be asked if you want to post the Livestream into the group you have livestreamed from.
If you'd like to edit the livestream or upload it elsewhere, the recording will be available in the Console for you to download and re-upload later. To access this, go to your Console > Advanced settings > Livestreams.
Another way to access livestream recordings quickly is to allow your livestreams to be saved onto your Camera roll. To do that on iOS go to Settings > Find your App in the list of all apps > enable Save my livestreams to Camera Roll.
---
Looking to create your own community app? Contact our Community Experts - info@disciplemedia.com
Need help with your existing Disciple powered community? Contact our Customer Support team - help@disciplemedia.co