Inviting Members is a crucial part of your community's success – taking advantage of the features in place will allow you increase your chances of great community growth. Here's multiple ways to invite members to your community.
How to invite Members with a signup link
On the Invite members page, you'll see two cards, share a link and send an email. For this you case we want to select the "Create Link" on the Share a link card.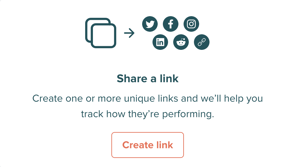 Selecting "Create link" will take you to the link creation page. From here you can configure your invite links in multiple ways by defining settings such as expiry dates, usage limits, Link name and automatic group joining.
To create a Link you simply need to select "Create Link". This will create the link based on the settings you have determined.
You can then share the link in any way you like by selecting Share. For example, you can share the link on your social media pages, on your website or through Email.

Top tips!
Usage Limit - You can define the amount of times a Singular link can be used by members. Whether this is one member or multiple, it is completely up to you. There is a limit to the amount of times a link can be used but it is set to a maximum of 1 Million. Let's Hope that this needs increasing!
Link Name - Link name is pretty straight forward and allows you to name the link that you are creating. Please note though that this is for internal purposes and is designed to make it easier for you to track your Link. This is not creating a public name that members will see, as they will be using the created link itself.
Expiry Date - This will allow you to set an expiry date for when the invite link is no longer valid. This means that once the expiry date has been met, the invite link will no longer work. This can come in handy if you are running a timed promotion! You can choose to leave this field blank, what will mean that the link by default will never expire.
How to invite Members with Multiple signup links
In the same way that you would for configuring a singular link, you will need to select Create Link on the share a link card.
Selecting Create link will take you to the link creation page. Here you will be able to determine the number of Links that you wish to create. By default this field is set to 1 but it can be changed from this to a limit of 1 Million. When creating multiple links, they are all set to be single use links. You can however determine when these links expire.
Once you are happy with your determine settings, you can select the Download Links as CSV button. This will download all your links as a CSV file for you to distribute across your channels in the way that you wish.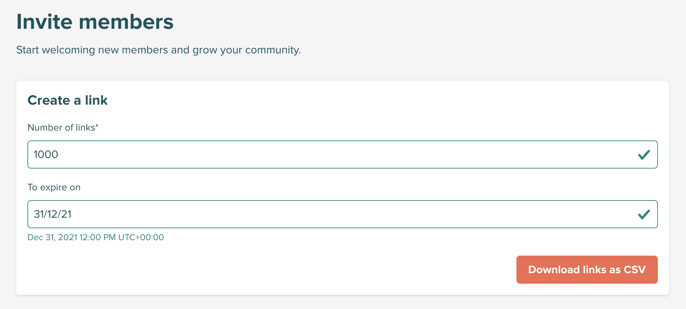 How to invite Members using their email addresses
On the Invite members page you will also see the Send an Email card, from here you can email your contacts directly to invite them to your community.

By selecting Customise and send on the send an email card, you will be taken to the email configuration page. From here you will be able to customise your invitation email and input the email addresses of the members you wish to invite.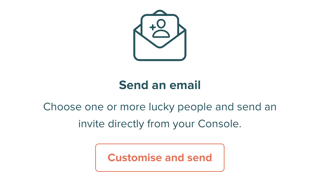 You can view and customise the invitation email that will be sent to your contacts by clicking Edit. You can also click send test to get a version of the email sent to your inbox for you to try it out. This email supports plain text only.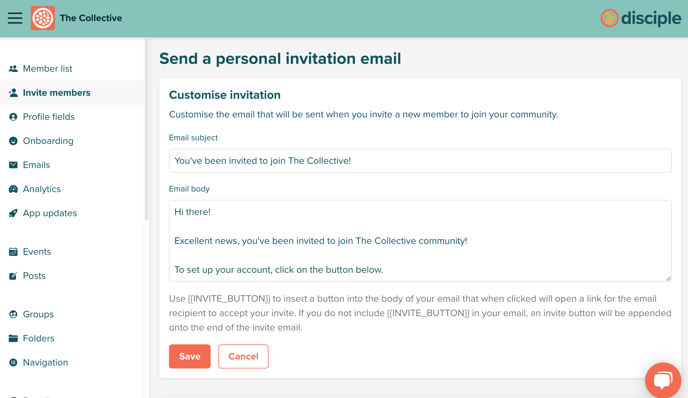 Once you're happy with the email you can start adding the email addresses.
Just paste or type your invitees' email addresses into the send box, making sure to either separate each address with a comma, space or line break. We recommend pasting the email addresses – it saves you time and avoids any of those pesky typos!
At this stage you can choose whether to add your invitees to any groups straight away – you can choose from the drop-down menu.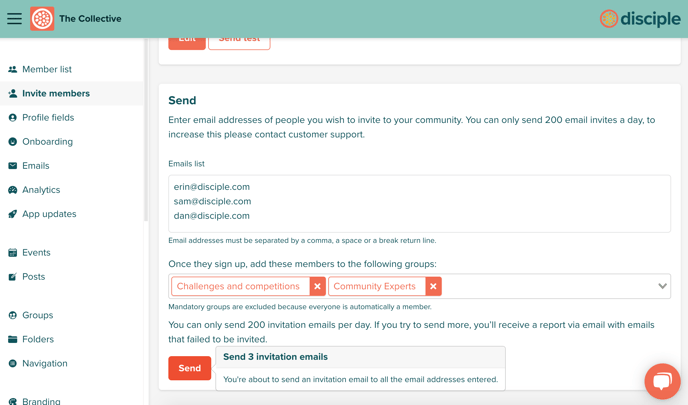 Once you're happy with all of this, just hit Send.
We have an invitation allowance set to avoid invitations going to spam. If you would like this limit extended for a set period, please contact help@disciplemedia.com

To learn more about invitation-only communities, click here.