Welcoming new Members into a Community is an essential part of their journey and experience. Here are some tips to create your own Welcome Email.
Why should I have a Welcome Email for my Community?
It's key to let new Members know that you're thinking of them and that they've made the right choice by signing up to your Community.
There are many ways to welcome newcomers, such as creating a 'Getting Started' Folder or Group, pinning a welcome video to the top of a mandatory feed, tagging new members each week and asking them to introduce themselves and many more.
Creating a Welcome Email is another simple and effective way to welcome Members into your Community.
Where do I find the Welcome Email option?
Log in to the Console, select Grow from the left hand side menu and then choose Onboarding.
Scroll down and you'll find the option for the Welcome Email. Here you can add in a subject and a body of text which can even include HTML if you are comfortable using it!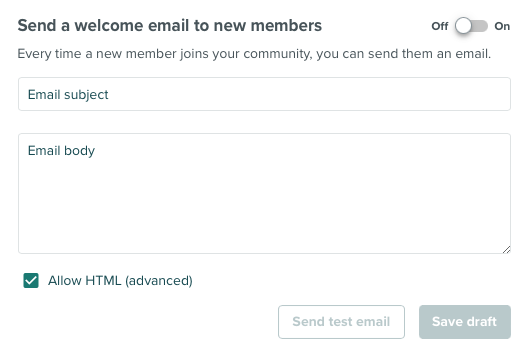 Once you've put in your email content, save the draft and then test it by sending a test email to yourself. If you're happy with it, toggle the feature to on!
What should my welcome email do?
A Welcome Email should:
Be informative and clear.
Be friendly and warm.
Have a Call to Action (CTA).
Share your value proposition.
Have a way to contact you (or someone from your team).
Be enthusiastic and welcoming (!).
Your email doesn't need to be super lengthy to be able to include all of the above. Take a look at the following example and how it touches on all of the points above.
Welcome Email template: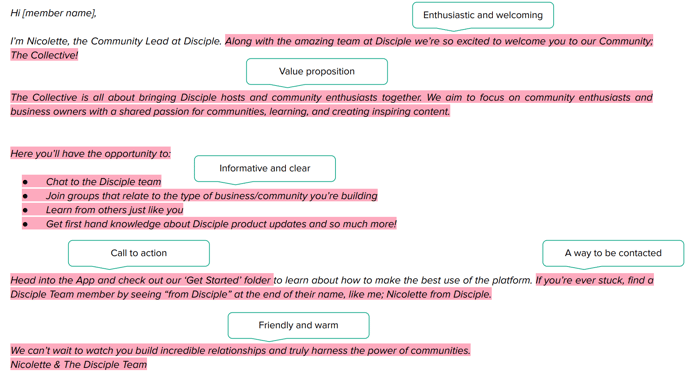 And here's a text version of the email template in case you'd like to copy and edit a version of your own:
Hi [Member name],
I'm Nicolette, the Community Lead at Disciple. Along with the amazing team at Disciple we're so excited to welcome you to our Community; The Collective!
The Collective is all about bringing Disciple hosts and community enthusiasts together. We aim to focus on community enthusiasts and business owners with a shared passion for communities, learning, and creating inspiring content.
Here you'll have the opportunity to:
Chat to the Disciple team
Join groups that relate to the type of business/community you're building
Learn from others just like you
Get first hand knowledge about Disciple product updates and so much more!
Head into the App and check out our 'Get Started' folder to learn about how to make the best use of the platform. If you're ever stuck, find a Disciple Team member by seeing "from Disciple" at the end of their name, like me; Nicolette from Disciple.
We can't wait to watch you build incredible relationships and truly harness the power of communities.
Nicolette & The Disciple Team.