Tips and advice to help you with content strategy
Content Is "King"!
Our apps thrive on content. We want our technology to inspire content creators to produce the best content and deliver it to their audiences in a new, more meaningful and direct way than was previously possible on social media channels. Here are some tips how you can approach your content strategy.
Establish your content focus areas – figure out what type of content will be the major pull for your audiences and build your content strategy around that. Try to keep your content unique and exclusive to the app comparing to the output on social media. Treat your app audience differently to your average social media follower in order to nurture your community.
Build a routine: release content regularly keeping consistency in quality, frequency and timing. Creating a post every 1-2 days keeps your feed fresh and relevant. Planning is a key to a successful content strategy so allow time for concept, production and delivery.
Drive community engagement by interacting and rewarding most active members. Almost 90% of content in the app is usually generated by your members. Your content brings in your audience into the app, but it's your audiences and their content that sparks the life into it.
Get viral: encourage fans to share their app experience and spread the word. Your app audience is your marketing "army"!
To help you categorize different content, we've divided all content into 4 different groups:

I. Spotlight
This is your prime time content that will be the main driver of app downloads and usage. This type of content should be planned in advance around the main events in your calendar.
Frequency: at least 1-2 a month
Examples:
Live streams
Exclusive content or premieres
Important announcements and releases
Promotions and offers
High Value competitions or experiences
II. Core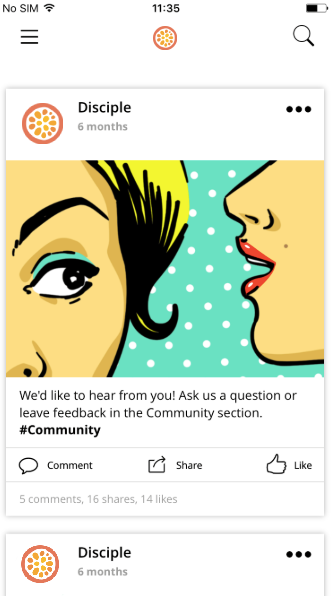 Editorial content tailored to your and your users' interests, driving community engagement.
Frequency: 1-2x week
Examples:
Real time status updates (not major news)
Tips (travel, food, fashion, music etc)
#TBT moments / Throwback moments
Archive content
Content from the wider team and crew
​III. Community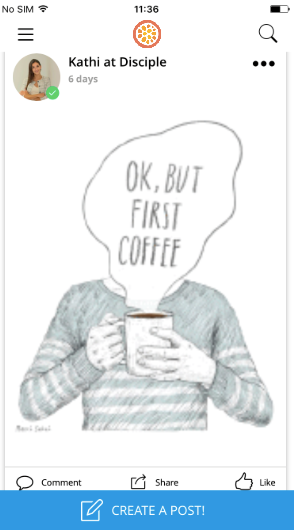 90% of content is usually generated by your users. Think about how you can inspire that content creation or find ways to interact with your audience without a huge content output from yourself. Keep your community active by rewarding the most engaged fans and leading conversations. Motivate fans to interact with each other
Frequency: 1-2 a week
Examples:
Create poll posts
App member of the month - reward the most active users every month with a special message or prize
Meme / Gif of the month - choose the funniest meme shared in the app
Reply to users posts on the community feed and re-post the most interesting and relevant ones.
Q&A - Ask members to submit questions for live stream
Run regular competitions
Ask members to post specific content using #
Reward your users by re-posting their content onto the main feed
Advertise events and ask members if they are coming
​IV. Basics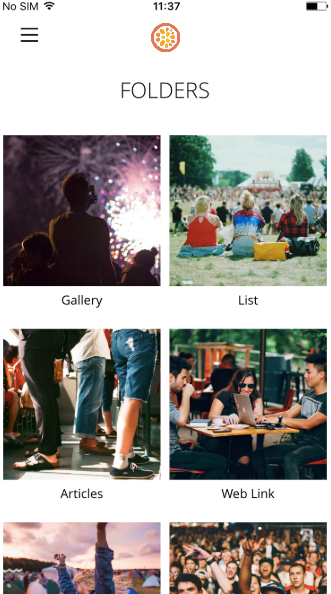 Organize your existing content in the Media & Events sections and make it easy for members to locate it and browse through it. Rich and well maintained sections increase session time in the app.
Examples:
Create specific folders for photo albums
Create a live stream folder to store videos from the past streams
Use In-App deeplinks to link content from the wall post directly to Archive folder or other App section (especially useful for when photo albums are created)
Update landing page regularly to highlight key events or content
Use multi-layer folders
Use header images for each folder will improve the overall look of the Media section
Make sure to update Events section of the app as and when there are new dates are announced.
Summary
You know your audience best, and after building your community in the app, you will gain even greater insights into your fanbase.
Listen, interact with your audience on a regular basis - over time this will help you to create and implement the best content strategy for your app.
Be consistent - make sure you provision the content output in quieter times.
Any digital channel lives and dies by its content. Deliver your best content on consistent basis to retain and nurture your audience.
If you're thinking about launching your own mobile community, please get in touch with us now.
__________________________________________________________________
Looking to create your own community app? Contact our Community Experts - info@disciplemedia.com
Need help with your existing Disciple powered community? Contact our Customer Support team - help@disciplemedia.com