Push notifications are a super useful way to engage your Members. You can segment who you send notifications to, and even send notifications to individual Members.
Video – How to send push notifications to Members
How to send push notifications triggered by a post
How to set up push notifications directly to Member(s)
Push notifications tips and tricks
What are push notifications?
Push notifications are the messages that pop up on people's devices to let them know that a service they use has seen some action. This could be a text message, a new follower, a food order on its way...
We've implemented push notifications on the Disciple platform as a way for Hosts to keep Members informed and engaged with what's happening in their community.
How to send push notifications to Members – video
How to send push notifications – step-by-step
There are two ways to create and send a push notification. How you do this will depend on who you want to send it to.
Push notification triggered by a post
1. When you create a post you'll have the option to send a push notification to the Group that post is going to.
When you've created your post, click the blue bell to the bottom-left of the post creation box.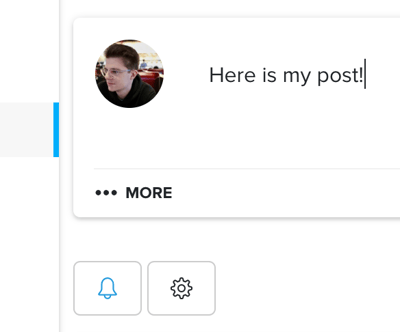 2. You'll then see the Send Push Notification popup. Here you can choose whether or not to send a push notification for this post by toggling the button on or off.
You can write custom notification text in the box below that. This is the text your Members will see when they receive their push notification.
You don't have to write a custom notification. If you choose not to, your notification will default to This Member posted in This Group.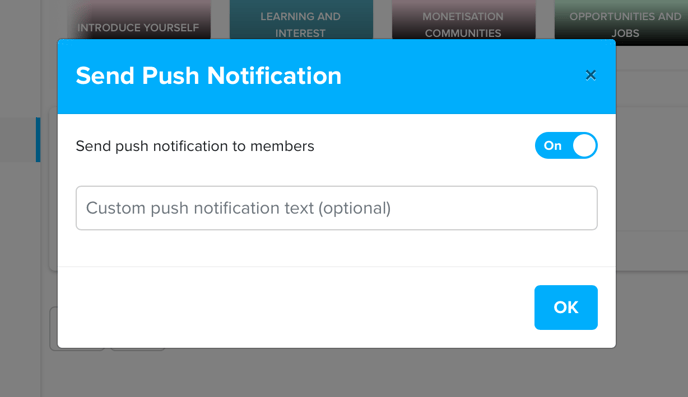 3. When you're happy with your push notification text, just click OK. You can then complete your post and when you press Post your notification will be sent to your Member(s)
Push notification directly to Member(s)
1. You can also send push notifications to filtered groups of Members or to individual Members.
First go to the Members section by clicking Members in the left-hand menu.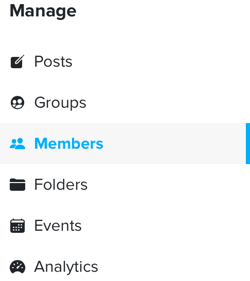 2. At the top of the Members section you have some options for how to send your push notification.

Search for specific Members
By typing Members' names or email addresses into the Search members box you can find specific Members.
Filter Members
Country

Registration date
Subscription
Last active
Trusted reporter
Can livestream
Verified Member
Group(s)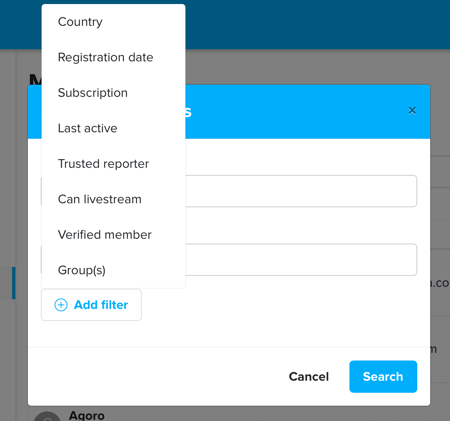 3. Once you've selected your filters you'll see a list of the Member(s) in that segment.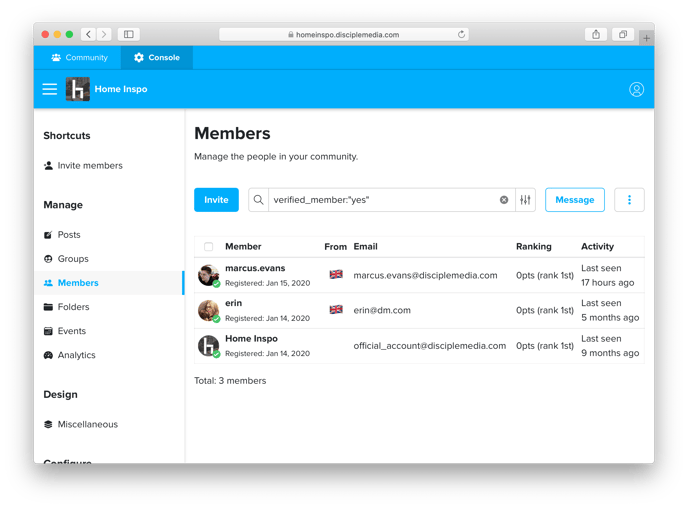 You can then click Message to the right of the search box to write your push notification.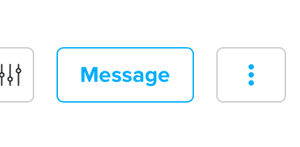 4. In the Message popup you can write your tailored push notification text. You can also select what part of your app will be opened when Members interact with the push notification. Yon can choose between:
The app (home screen)
A Group
A Post
A Folder
You'll also see a preview of your push notification in the popup. Remember that if you make it too long the text will be truncated, so it's best to keep it short.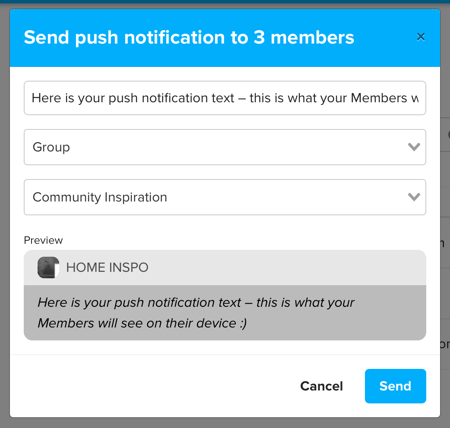 5. When you're happy with your push notification, just press Send.

App Members can opt in or out of push notifications when they sign up. They can also edit their notification preferences in their device's settings.

Push notification tips and tricks
Frequency
Think carefully about how often you send push notifications. One of the key reasons for Members disabling push notifications is that they're bombarded by them. If you're publishing multiple posts, consider only sending a push notification for the key content that day.
Length
The best push notifications are short and to the point. Simple.
Emojis
Just because push notifications should be short and sweet, doesn't mean you can't add some colour with emojis! In fact, a number of studies have shown that engagement with push notifications is higher when emojis are used 🎉
Time Sensitivity
Create some urgency by using push notifications as a way to alert your community to something that's only available for a limited period, has a limited availability or requires immediate action. Make it fun and beneficial for your audience to have notifications enabled!
Encourage Enabling Pushes
Don't be afraid to encourage your community to enable pushes and highlight some of the great things they might have missed. Why not include an update on how to re-enable pushes in your newsletter.
---
Looking to create your own community app? Contact our Community Experts - info@disciplemedia.com
Need help with your existing Disciple powered community? Contact our Customer Support team - help@disciplemedia.com