Take advantage of our advanced settings to ensure your community has visibility of your sponsored and hottest content.
To use the advanced settings on posts firstly you must create one, the guide to do this can be found here.
While creating your post you will see a settings icon appear at the bottom left of the text box.

Clicking this icon will expose the advanced settings.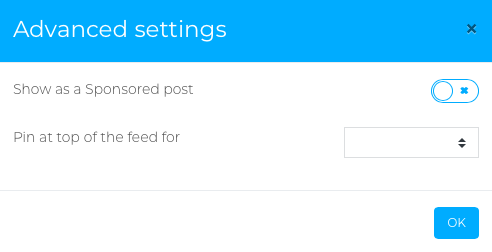 Sponsored posts
Clicking the selector next to 'show as a sponsored post' will highlight a sponsorship deal to your members via messaging in app.

Pinning posts
Clicking the drop down to the left of 'pin at top of the feed for' will expose the duration of time you can pin a post for.

Pinning a post ensures that content stays at the top of either the 'official' or 'community' walls for the period specified.
When you're happy just click post!
__________________________________________________________________
Looking to create your own community app? Contact our Community Experts - info@disciplemedia.com
Need help with your existing Disciple powered community? Contact our Customer Support team - help@disciplemedia.com