As you may have seen, we've rolled out our brand spanking new CMS to make the management of your community as easy as possible. There are some features, however, that are yet to be migrated over from the hub. As a result, if you find yourself needing to get back to the hub, follow the below step:
From anywhere in the new CMS you'll be able to see your name in the top right hand corner. Click on it and select 'CMS Advanced Settings':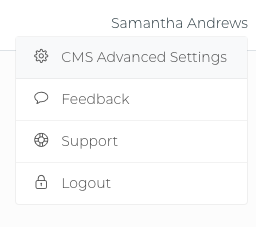 And viola! You're back in the hub.
__________________________________________________________________
Looking to create your own community app? Contact our Community Experts - info@disciplemedia.com
Need help with your existing Disciple powered community? Contact our Customer Support team - help@disciplemedia.com