Weekly digest email helps to increase member retention, interest level and relevancy.
At Disciple, we recognise that growth is key when it comes to hosting a healthy community but in order to grow with meaning, we must give attention on retention. (*We check associated data constantly).
Our main focus is on the ratio of "Weekly Active Members per Monthly Active Members" (in product management jargon we refer this to WAU/MAU) as we think it's a good benchmark that will allow hosts to further drive community engagement.
This is why re-engaging members and having them return to a community at least once a week is pivotal in developing our features.

All our communities have an average of 55% of Monthly Active Members coming back every week. In 2020, prior to working on increasing the Push Notification opt-in ratio by offering a Push Notification strategy we were at 50%.

Our top communities have approximately 70% of their Monthly Active Members coming back each week.
We're here to further increase community retention by introducing email as a new way of bringing your members back and solving a few additional challenges along the way.
This feature is currently in Beta.
We are progressively allowing access to this feature to all of our communities. Due to legal requirements, customers who created their community before May 25th, 2021 are required to update their privacy policy. We will reach out to you on how to do so when the time comes.
If you've just created your community, it is most likely you will see this feature on the Console.
If you still don't see this feature and must have this feature, you can always signup for the waiting list and join the Digest email Beta program.
We prioritise communities on the waiting list that have updated their privacy policy document with the following requirement.

Table of Contents:
The retention problem(s)
Hosts rely on Push Notifications to engage members and bring them back into a community
Community members with disabled notifications have no incentive to go back on the community - can't engage the unreachable
Web communities are most affected by low Push Notifications opt-in rates
Apple not being a fan of Progressive Web Apps, iPhone/iPad users cannot opt-in for Push Notifications when accessing the web platform from Safari
Digest email vs real-time notification email
We've set off to tackle the aforementioned retention problems by introducing an external trigger in the form of an email. We've had two options, a digest email or a notification email that would go out alongside Push Notifications.

Both of these have distinct pros & cons:
Pros
Cons
Digest email

Delivers all added value of real-time email without bothering members by filling up their inbox
It will increase the weekly active members metric
One email per week is perfect and won't be reported as spam by recipients nearly as often as a real-time email would
More content bundled together means a higher clickthrough rate
Content of the digest email is flexible and not linked to push notifications only. We're planning to add unique customisation options down the road (e.g. member stats, posts performance, upcoming events, etc.)

Sent out once a week only
Doesn't drive the daily active members metric up
Can be unsubscribed from and we lose the chance to bring the member back

Real-time notification email

One email per activity means more triggers to increase daily active members.
A good alternative to push Notifications, especially for members using the web platform who can't opt-in for push notifications.

Relies on content that is currently sendable via push notification
Risk to annoy members and have them disable all emails from the platform.
More chance for the email to get reported as Spam
Opens a tricky question to answer: "how many emails sent every day is perceived as too much?"
After considering the pros and cons of each solution, we decided to opt for the smarter option - the digest email, because:
it's less intrusive and is similar to a newsletter as such, the opt-in rate will be higher
better click-through rates as content will be unique and won't rely on push notifications only
we're focusing on increasing weekly active users first (not daily active users)
will generate significantly fewer outgoing emails, which reduces the risk of spam
Is the digest email a desirable feature?


Every new feature is a math problem for us at Disciple. We review key metrics, perceived impact and problem mitigation capabilities. Once done, we prioritise and then get cracking.
Though sometimes, which is rather unfortunate, we shelf certain ideas for later.
This time around, we've gone with a different approach as we weren't sure if community members would opt-in to a digest email.
We turned to The Collective and our hosts if such a feature would be desirable but most importantly helpful.
The feedback we received was quite overwhelming:
100% of community hosts want this feature
We then followed up with a small request, sent to a selection of hosts, to find out "how likely are your members to opt-in to receiving a digest email every week".
The response has been quite positive, which further confirmed we made the right choice as:
86% of community members would turn this feature on.
77.2% of community members want to receive the digest email regardless if they've been active in their community in the last 7 days or not.
How to enable the "Weekly digest email" feature
Start by opening the Console and accessing the Emails section, then just switch the toggle for Weekly digest email On - that's it!

Am I allowed to send digest emails to my members?
Legally, digest emails are considered marketing emails and not transactional emails (e.g. reset password, confirm your email).
Therefore you must to ask members to opt-in. You're also required to provide them with the ability to unsubscribe from within the actual email but also from the community Settings view.
In order to facilitate any future features using email as a communication channel, we are requesting members to opt-in to All emails, which includes just the digest email currently (06.21) but we have plans for further additions.
How can members opt-in?
All community members are opted-out by default.
Once the Weekly email digest is enabled on the Console, members will be then asked to opt-in to All emails* on their next log in.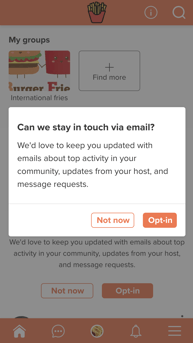 .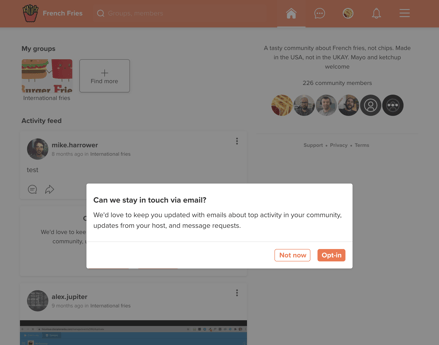 If they select "Not now", then a reminder will be displayed on the Activity Feed, just below the first post.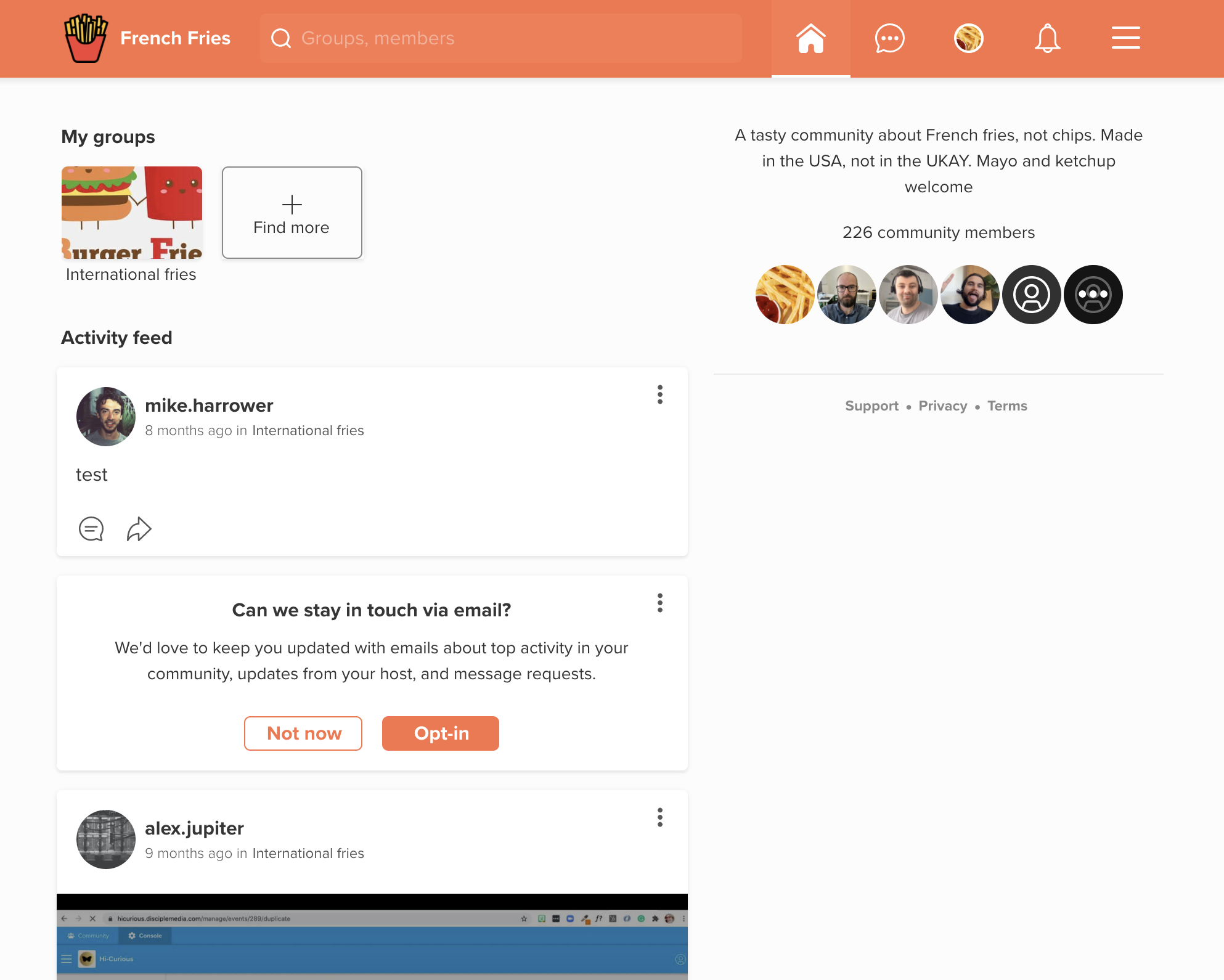 If they select "Not now" again, they won't be reminded for 7 days.
We do understand that some members can get annoyed with the reminder, especially when it keeps on returning every 7 days. This is why members can choose to not be reminded again by opening the dropdown menu.
Members can also visit their Settings page and disable either All emails or the digest email only at any time.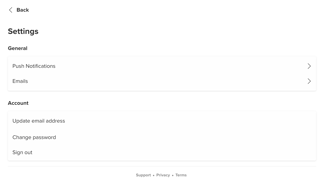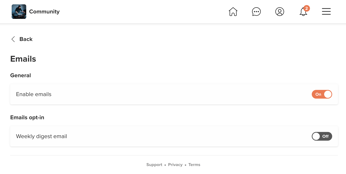 *Note: Any future email-related features will be listed in the Emails section on the web platform's Settings page. Community members will always be in control of the emails they receive; enable/disable all at once or on a per-feature basis.
Learn which members opted-in to the digest email
Having visibility on how many members have enabled the digest email is important as it allows you to assess if the feature is desirable within your community.

You can filter the list of your members by who opted-in to All Emails or Digest Emails, or both.
What's included in the digest email
In the first iteration of the digest email, we're focusing on highlighting the most important factor of any community: the most popular posts in the last 7 days.

We went with the above approach because posts are the heart and soul of each community, but it also allowed us to highlight community members at the same time. You get to view the most popular posts but also their authors, which then will allow members to discover new people to follow and connect with.
The content of the actual digest email might differ from one member to another.
Only the most popular posts (likes + comments) that a member can access are included in the digest email. Group membership is also factored in and as such, members will only have visibility on posts from groups they've joined.

How to personalize the avatar picture shown in the digest email
If the avatar shown on the digest email is not looking the way you want, you can follow this guide to update its looks.
Avatars are usually shown on webmail clients. e.g. Gmail
FAQ
How many posts are included in the digest email?
This depends on the activity within a community but the email will highlight 4 posts by default. We might experiment a bit at some point and lower or increase the number, just to identify which setting performs best.

Eventually, we will let you customise this and decide how many posts you showcase.

Are posts from Secret groups included?
Yes, they are. But rest assured: only members of these secret groups will have these posts included. Each digest email sent is personalised with the content each member has access to.

Can I update the colours?
The digest email is personalised to your community. It re-uses the colours you've set in the Console > Branding > Colours. Updating the colours will update the colours of your community.
Can I change the copy?
You cannot change the copy currently but we're aware that providing customisation options is important. Each community is different, in the future we want you to use your own branding, plus give the copy a personal touch.

We kept the copy short and to the point; the goal is to bring the reader back to the community thanks to the amazing selection of popular posts.

I cannot see the Weekly Digest email feature in the Console, what should I do?
We won't be releasing this feature to all communities. We need to roll it out slowly because as you can imagine if we turned it on for every community, at the same time, then it could cause deliverability issues. We can't afford to have the digest emails flagged as spam.
If you are really excited about the feature, you can enter our Beta program for the Digest email and that will put your community on a priority list.

I can't see the Digest Email feature on the Emails section of the Console. Why?
That's probably because you haven't updated the privacy policy since May 25th, 2021.
in May 2021, we've updated the privacy policy template to include a legal text allowing you as a host to send emails to your community members. Without this legal clause, we cannot let you email your members on a regular basis from the Disciple Console (e.g "send digest emails").
If you've created your community after May 2021, you should already have access to the Digest email feature.
If you've created your community before May 2021 and you don't have access to the feature, then you'll need to fill out this form: Digest email program and update your privacy policy document in the Legal docs section of your Console.
To do so, find the paragraph that starts with "Once registration is complete" and modify it as follow:



To make it easier for you, you only need to replace the found paragraph in your Privacy policy document with the following text and publish the changes:
Once registration is complete, we process the following information: Posts and comments in the App that you choose to make available. Please bear in mind that any posts and comments you make are in the public domain and may be viewed by non-registered users in the App, on public web pages, and by other users of the App via periodic emails showing recent App activity.
Once done and the form submitted, we'll review your privacy policy document and if it's been updated correctly, we will enable the feature in your community. Please bear in mind this is a manual process and it could take up to a week for it to be processed. If you haven't heard from us after 7 days and you still don't see the feature in the Console, then contact us.

I have enabled the feature on the Console, my members have opted-in but no one has received any email. What's going on?
There are multiple reasons why the digest email would not be sent. We would not send any email if the following happens on your community:
Your community member limit has exceeded.
E.g. you have a limit of 2000 members but have currently 2210 members in your community. You'll need to upgrade for the digest email to work. Contact support or your CSM contact.
Nothing happened in your community in the last 7 days.
If there is no popular posts to send, we won't be sending the email.
Members that have opted-in haven't been back on the community for more than 90 days.
If a member that received the weekly digest email for 13 weeks has still hasn't made his way back to the community, we consider that we shouldn't annoy them with the emails anymore as they might flag them as Spam instead of unsubscribing. The digest email will be reactivated automatically when they come back.
Legal matters

Now comes the fun part, the legal aspect, which is quite sensitive as we haven't used email in this way prior. As you know you're members' are required to opt-in to start using this new, exciting feature.

If your community has been created before May 25th, 2021, we need you to update your privacy policy document and mention this new usage of the email data. We strongly advise you to follow through with the below.
If you've been using the Privacy Policy template we've provided in the Console, then the only thing you need to do is the following:
On the Console > Legal docs section
Create a new version of the Privacy policy and update the following to section 5:
"Once registration is complete, we process the following information: Posts and comments in the App that you choose to make available. Please bear in mind that any posts and comments you make are in the public domain and may be viewed by non-registered users in the App, on public web pages, and by other users of the App via periodic emails showing recent App activity."
Conclusion
This is just the beginning but we can already see the positive impact this feature has on community retention. The communities we onboarded to the Alpha program have seen a 51% open rate for their digest email, which is quite astonishing as the industry benchmark for such emails is just about 20%.

We aren't stopping with just posts as we want to include other valuable information and content in weekly digest emails as we want members to see the value this feature offers even if they don't visit the app each day.

We'll be also sharing performance stats with hosts via the console and also incorporate customisation options.

But for now, we just want to release it to each and every community - enjoy!