As a community Host, managing your Members is one of the crucial tasks. Here's your guide to how to manage your members from the Console.
How to find your members
Click Member List in the top of left-hand menu to start managing your members
On the Members List page you see a list of all members auto sorted by join date. The list also includes a few key member details. Member email is shown, plus details on their location and recent activity. Their ranking is also shown here – this is a combined score of total likes, comments and official re-posts.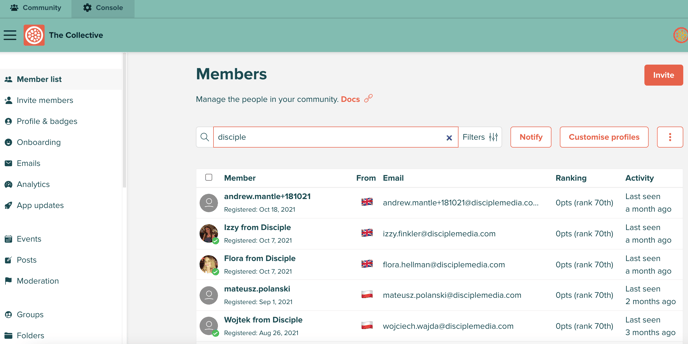 The Members
From the member list, you can choose a number of member actions that can be applied to either to individual members or to multiple members from the list. You can select each member by selecting the profile photo. You can select and manage up to 50 members at a time.
Member List search bar
This is where you can filter, search or segment the users that you are looking at. You can choose to search for a specific term in the field or select the filters option and select from all the identifiers that your application has to offer. The filters will allow you not only allow you to pick from all the Disciple fields, but it will also allow you to search against all of your custom profile fields too!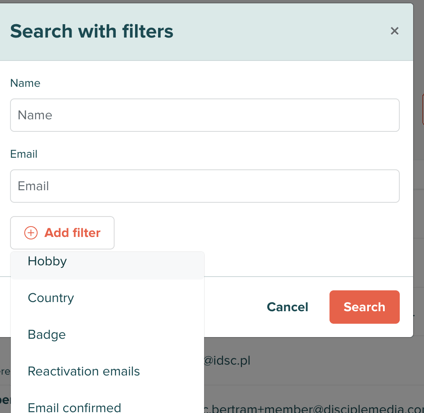 ---
The Actions
From the 3 dot menu to the right of the search bar is where to go to sort and perform member actions, do remember it will apply to all members selected, so don't forget to use the filters and select tool to make sure you re applying the actions to the correct members.
The export options will allow you to generate a CSV file for all or all selected members in your community. The export will include all member data available.
This will allow you as a host to bulk add members to a group. You can add all selected members to a group each time and you can choose from the list of public, private and secret groups to update the selected member(s) membership. Mandatory groups are excluded.
This will allow you as a host to bulk add a Badge to all selected members. The can add to all selected members but remember, Pressing 'add' will apply this badge to all selected members and Badges can only be removed individually!
The Delete and Delete all Pages options allow you as hosts to bulk delete members. The Delete option allows you to select multiple members and delete them, the Delete all Pages option will delete all users that match the given query. This option gives you the freedom to delete more than the usual 50 max members at one time. You will have to confirm deletion but do remember that once the member has been deleted, they are gone so make sure you get it right to avoid any headaches with missing member accounts!
When deleting members you are given 2 options before they are deleted.
Delete all content - This choice will give you the option of keeping member content or not when the member is deleted. Keep in mind, when it's gone it's gone, so it's worth doing some checks before deleting members that have been around a little while as it's likely this will need to be considered.
Send deletion email - This choice will give you the option of sending the member an email or not when the member is deleted. Usually, you would send the email to all members confirming the removal however this option gives you the choice whether or not to notify your outgoing member with the email or not.
You will also need to confirm the delete action by following the instruction on screen as you can see below!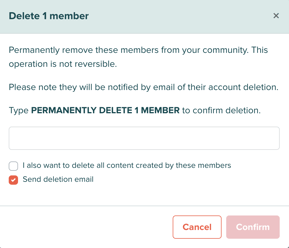 If at any stage you want to see how many members you have and how many are billable you can see this from the bottom of the member list page
The Deletion Email
The email is a pre-set email that goes out to members and can be seen below, you currently cannot edit the content on the deletion email.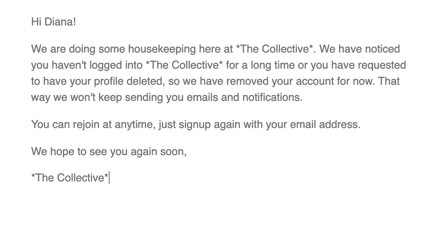 ---
Looking to manage members on an individual basis? Click Here