This article will explore the Moderation section of The Console. This is where all reported content and users will be queued for review, and action.
The moderation queue looks like this: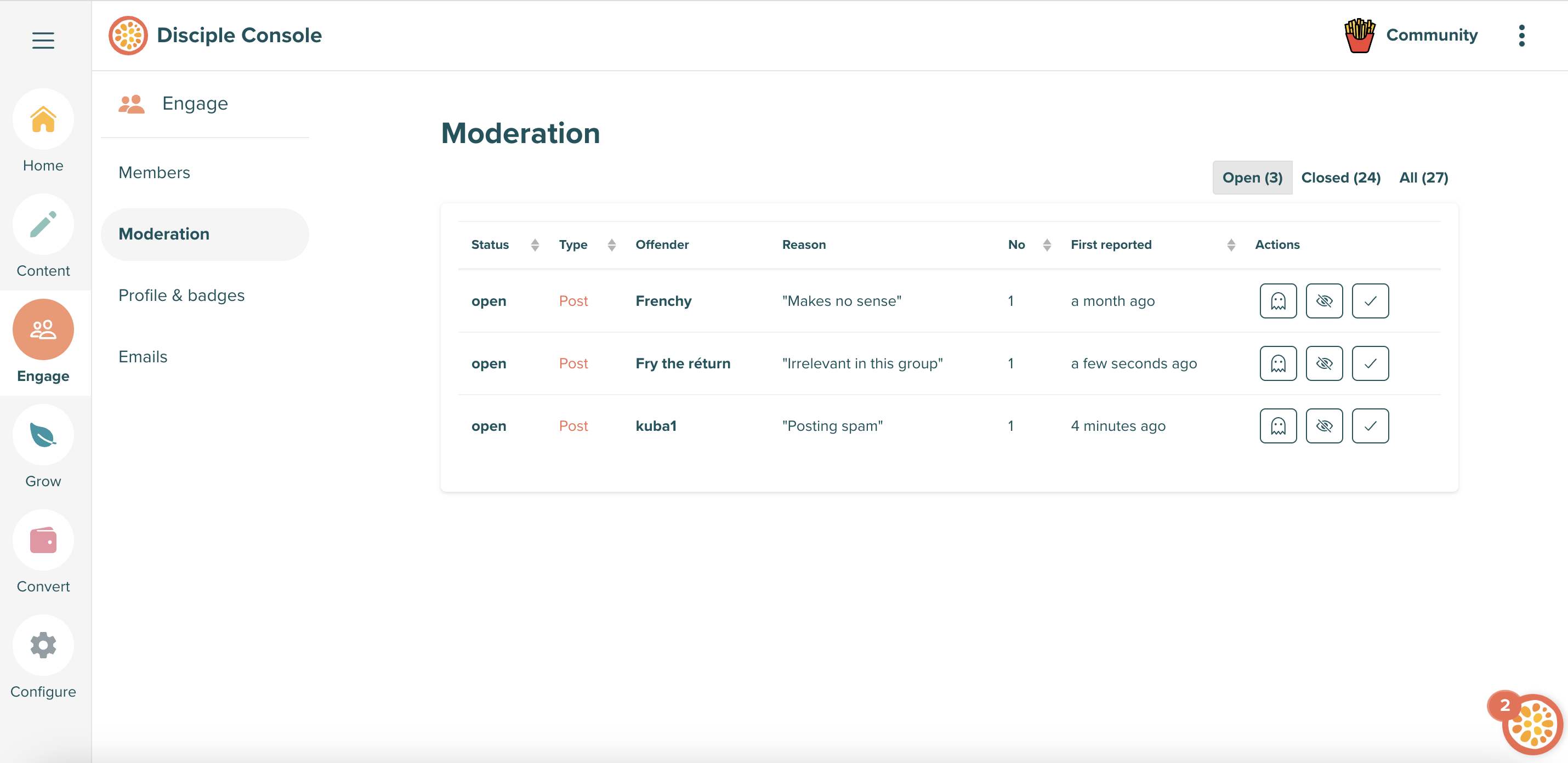 There are tabs on the top left for open, closed, and all cases. You can also see this under Status. You can close open items, or vice versa.
The Type defines the type of content that was reported - user/comment/post. Clicking here will take you to the reported content.
The Offender is the user that created the reported content, or the user who has been reported. Clicking here will take you to their profile.
Reason is the text that the reporter put in when asked why they were making this report. If more than one reason is given, hover over the text to see the other reasons.
The No displays the number of times that this case has been reported. If a content has multiple reports, they will be grouped together here. If grouped, then the status indicates the status of the group, and the group is treated as a single item.
First Reported is the date of the very first instance that this case was reported. You can sort the list by this so you can handle the oldest or newest reports first depending on your priority.
Actions give you 3 buttons with actions to take. The first icon is for shadowbanning (making the user's content hidden until you lift the shadowban). The second is for unpublishing content (this un-publishes the specific post). The third marks the case as complete and closed.
Disciple Tips:
For posts and comments, a quick look at the content may be enough to decide if you need to moderate, but a member report may need a bit more investigation through their profile and contributions as well as the report reasons given.
A higher number of reports on a single piece of content, may indicate it's a particularly objectionable item - but also might just mean it's been seen by more people - maybe it's a post in a popular group for instance
If someone reports the same member or piece of content you've already closed a report for, you will see this in the 'Open' list again, so you can decide any further actions required, or close it again.

The action you take on any report will depend on your judgement, your community guidelines and rules and the member history. For instance, there are a variety of actions you might want to take or combine in different situations:

Do nothing - if the report isn't justified or the post isn't against your guidelines you may want to take no action and simply close the report
Warn the reporter - if a member makes a lot of unjustified reports, you may even want to message them about that
Warn the reported member - if you feel the report is justified, you may want to message the reported member and let them know they breached the guidelines and rules
Unpublish the content - removing content that is against your community guidelines and rules will help keep your community healthy and friendly
Shadowban the reported member - you can do this temporarily or permanently
Disable the reported member - again this could be a temporary or permanent action