Learn how to manage your soft paywall and create premium Content for you subscribers.
If you have set up a soft paywall then you will need to choose what Content you want included in your subscription. This can be done through the Console where you have the option to make Folders, Assets, Groups, Posts and Event links subscriber only. These can be edited at any time in the console, so you can change your subscription offering at any time.
Premium Folder
Once a folder is created, you can select "Edit", where you will see the option "Restricted to subscribers". Use this dropdown to select the plan (or plans) you want to be able to access the folder.
When you're within a folder, you can also change the subscriber restrictions on the right hand panel of the console

Premium Assets
As well as premium folders you can also make the content inside a folder premium. This allows you to make Videos, images, Articles and Links all premium.
Whether you are making a Video or an Article premium, the process is exactly the same. To make a piece of content premium you need to select the three dots and select Edit from the menu. From here you will see the option "Restricted to subscribers". Select the plan you want to make the piece of content available to in your community.
Premium Groups
In the console you can choose to make a Mandatory group subscriber only by either adding a new group or by editing an existing Mandatory Group. Only Mandatory groups can be edited and made premium once they have been created. Although Premium groups can not actually trigger a Paywall at this current time, they can be included as a part of the subscription and subscribers with the right plan automatically get added to the group when they subscribe.
To make a group Premium you need to turn on the Premium Group option when you are either creating or editing a mandatory group. This option can be found under the Advanced settings on the group management page.


Premium Post
A great way to highlight your subscription is through the use of premium posts in your community. A post can be made Premium either through the console or on the community itself.
To make a post premium in the console you will need to select the advanced settings (cog icon) on the post screen, where you will see the option "Restricted to subscribers". By selecting the plan or plans you want to be able to see this post fully, you will restrict any members without these plans from seeing media attached to the post.
Premium Event Links
Premium Event buttons are a really good way to create exclusive events, purely for your Subscribers. By creating an event link, only subscribers will be able to see and use a link for an external or internal page. This link could be a link to a ticketed event, or more relevant to current times, an exclusive Zoom event.

To create a Premium event button you will need to start by creating a new event on the console. To find out how to create an event please read our guide on creating events. Once you are creating your event you will need to select "Add Button" at the bottom of the page.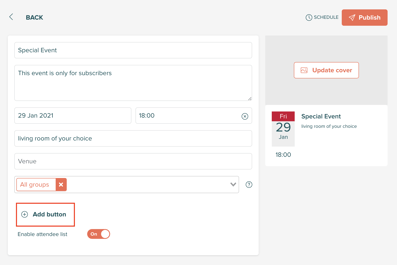 You will see a pop with multiple options to create and add your link. To make this link subscriber only you need to to select the option "Restricted to subscribers". Doing this will stop any members without the right plan from being able to click the button or see where it links to.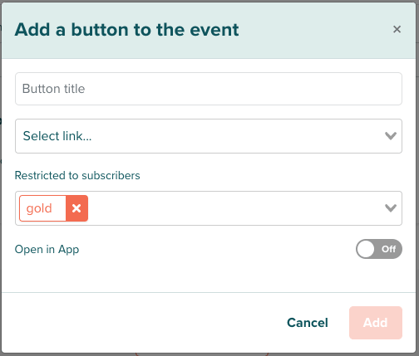 ---
Looking to create your own community app? Contact our Community Experts - info@disciplemedia.com
Need help with your existing Disciple powered community? Contact our Customer Support team - help@disciplemedia.com