A great way to onboard new members is to let your active members do it for you.

Onboarding new members to your community is a constant effort made on a daily basis. Even our in-house community, The Collective, which is the prime source for all things Disciple, has introduced new social dynamics to onboard new members.

This prompted us to identify these key challenges relating to member onboarding:
Returning members don't know who is new to the community or a group
New members can feel lost during their first user experience


"What should I do next?"
"Who do I contact?"

Members don't know whom to reach out to when they see something's wrong
Members don't have a clear space where they're suggested new people to connect with
In this article, we will be addressing the first problem from the list above.
We've implemented social network cues onto our community platform (mentions, messaging, comments, replies, etc.) since its inception.
During our research, we realised that we should make it easy for returning members to identify new ones to make better use of the aforementioned cues.

The theory behind our approach is "if returning members know someone is new, they might want to...":
reach out, greet or welcome them
visit their profile to see if that person is someone they would be willing to connect with
be more indulgent when interacting with them
give back to the community by aiding in their onboarding process; making it smoother and offering guidance
The network effect of this theory has huge potential as it will allow you to delegate the onboarding of new members to your power users (not a fan of repetitions, can use members).
With the key challenge identified and a theory to support our approach in place, we just needed to implement a solution that would answer the question below:
"How are we going to inform communities that a new member has joined?"
Use the "Activity feed" to highlight new members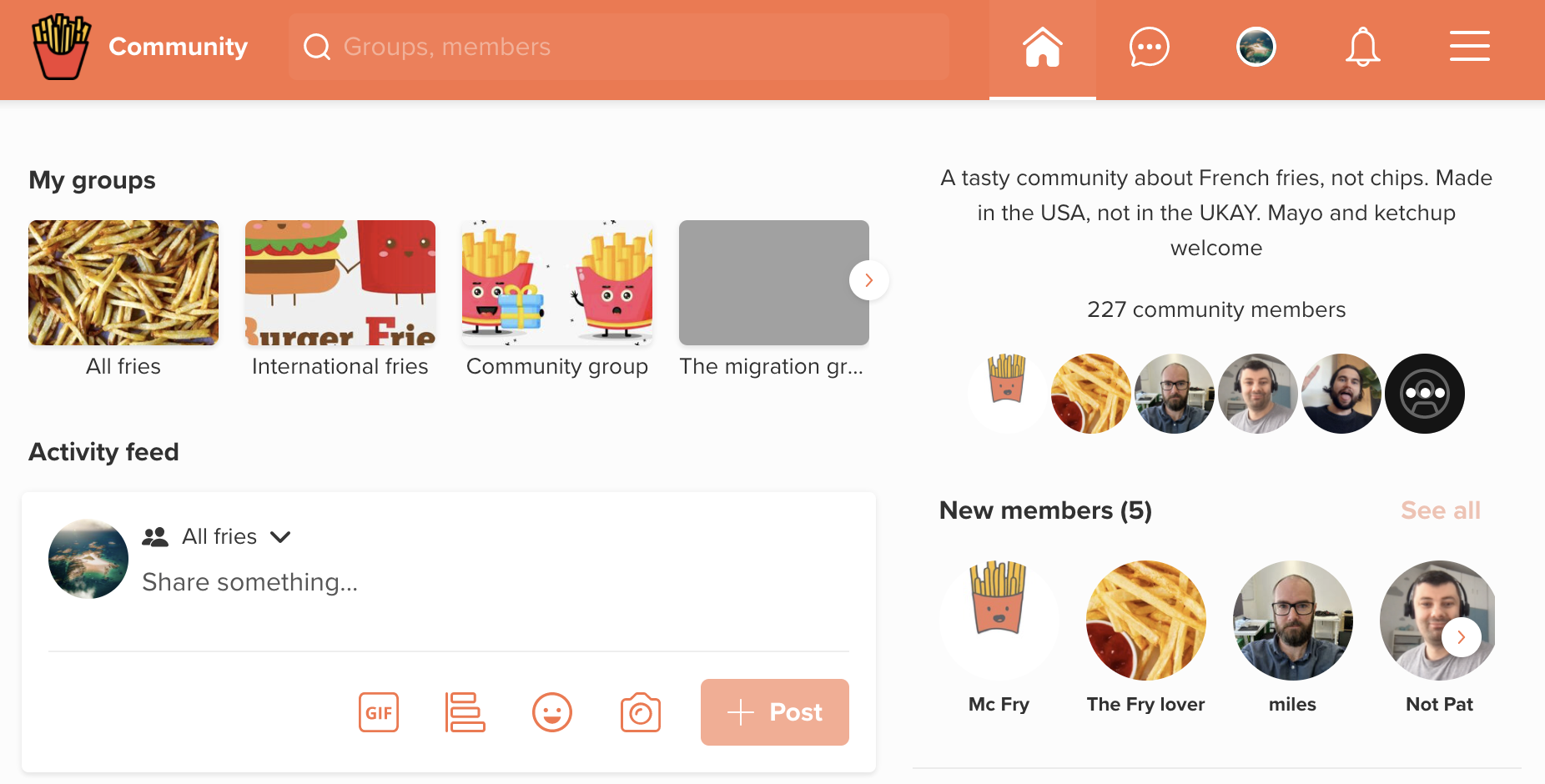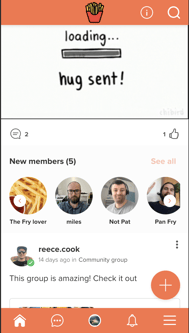 First of all, you'll notice a few interesting additions in the designs above:
On desktop, we're adding a horizontal list of new members on the "Activity feed" right sidebar
On mobile, we're adding a horizontal list of new members on the actual feed
On posts, new members have a "badge" that informs other members they're "New" to the community


Use the group feed to highlight new group members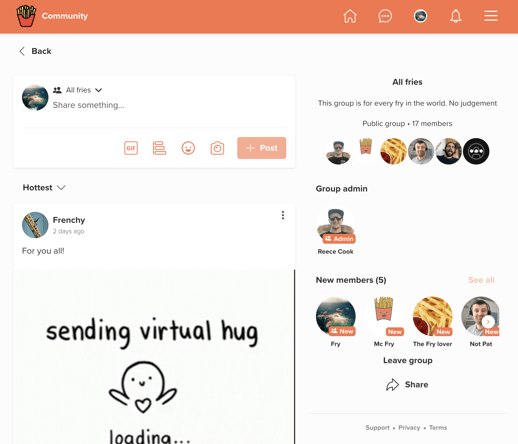 Similarly, we took this opportunity to look even further than just onboarding new members onto a community.
Why stop at a community level, when we could apply the same dynamic to new group members.
If you think about it, even if a member has been around the community for ages, sometimes (for some communities) joining (or being added to) a new group represents a completely new experience, even for older members.
So we did the same for members who are new to particular groups; disregarding their community seniority. The only difference is that the group-specific badge is a prefix.


Note: If a member is new to the community, they are most likely new to groups too. In that case, we prioritise showing the "New" badge over the "New to group" badge (the one with the group icon).
Use comments to showcase a badge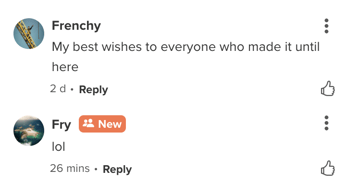 On top of that, we didn't want to limit this new feature to just posts. The badge will also be displayed next to a new member's username upon

However, we're concerned about displaying too many badges at once as it can lead to visual clutter.


Note: As mentioned in the previous note, if a community member is new to the community but also new to a group, then the "new to the community" badge will be displayed only.
How to set this up
It's quite easy, you will need to turn on "Show list of new members in the activity feed" by going to the Onboarding section of your console.

This will highlight new members on the activity feed.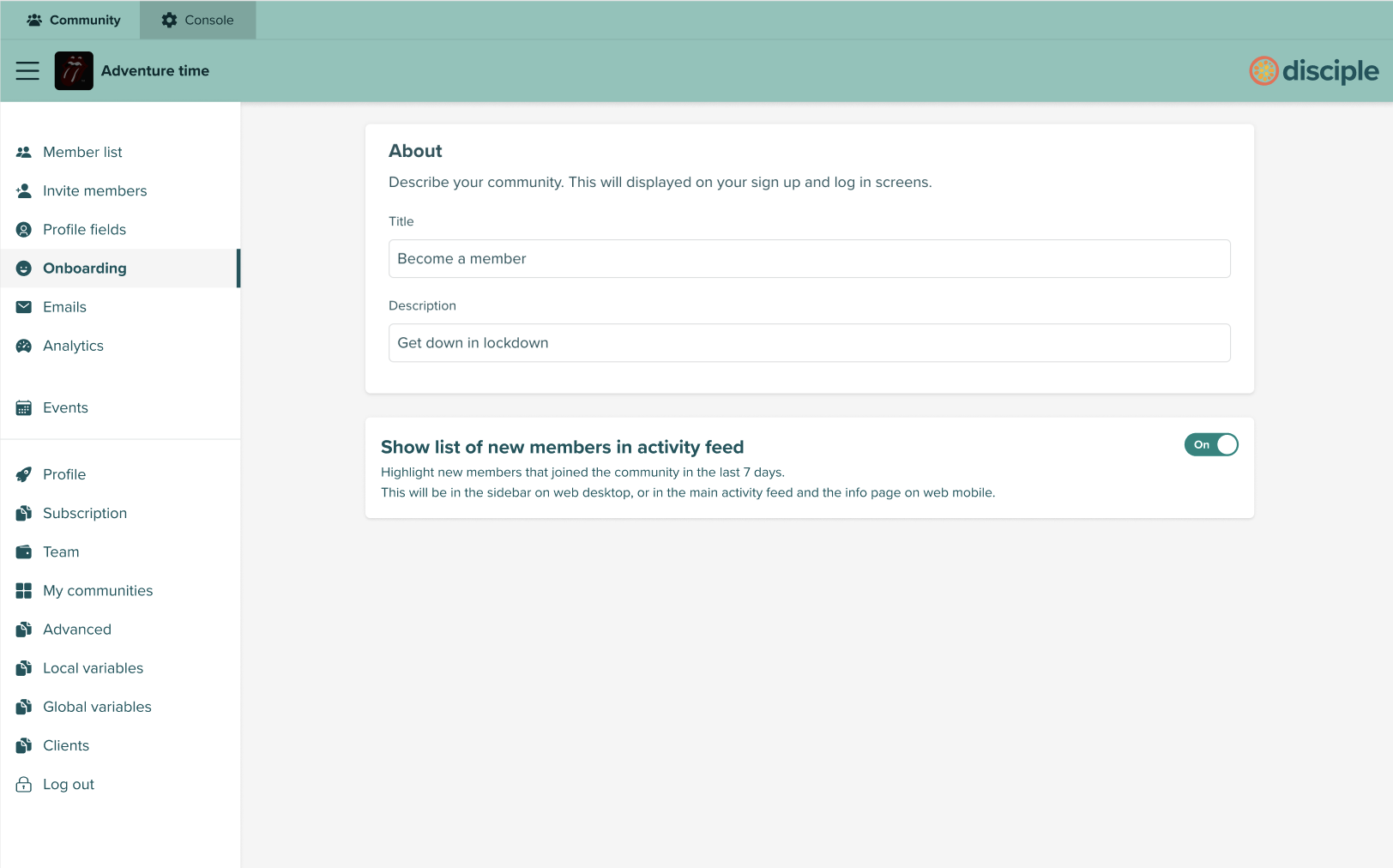 On your console, under each group you want to add this functionality for, you will need to make sure that "Highlight new group members" is switched on as follows.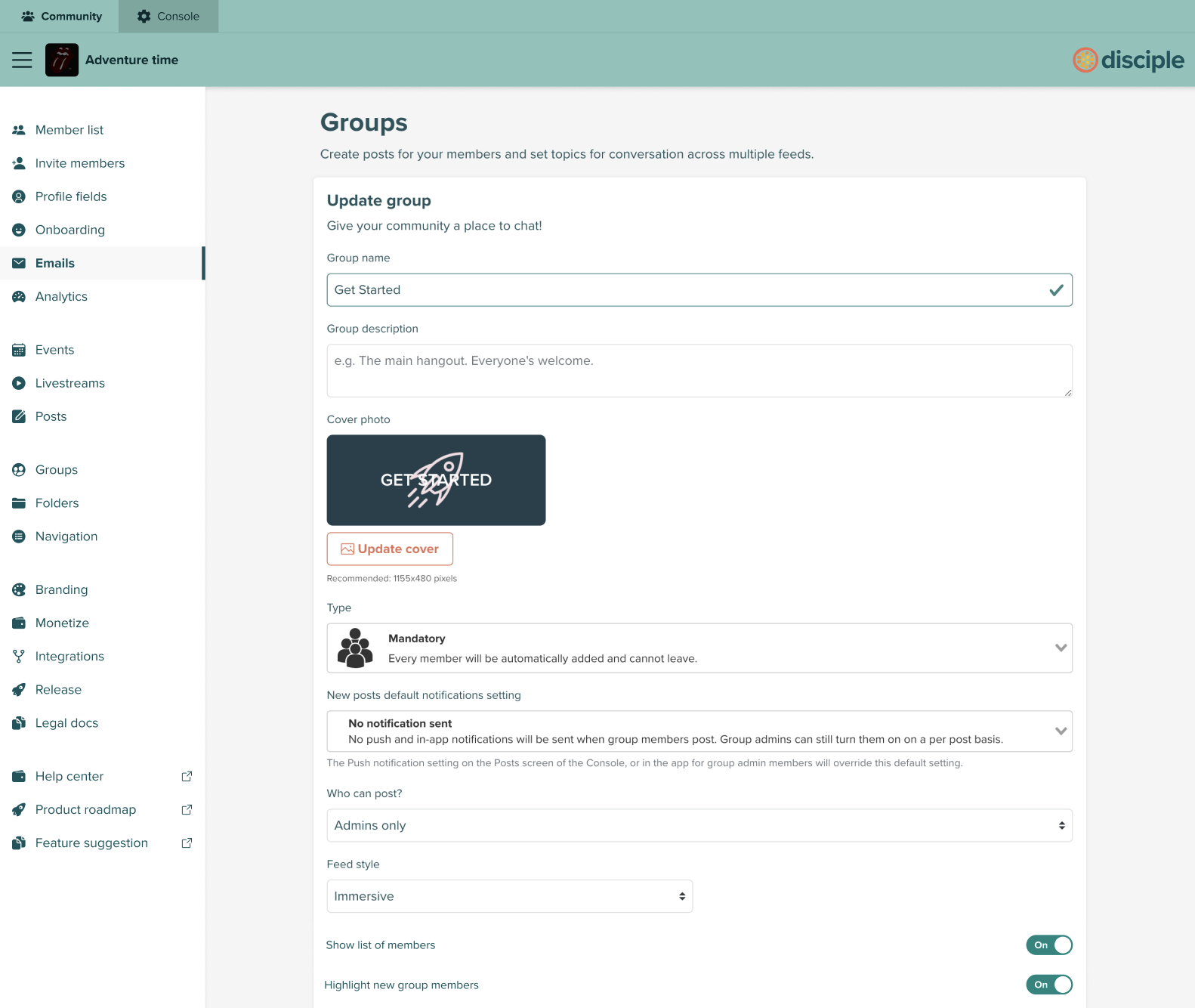 NB: Please note that any newly created group will have this feature turned on by default and any previously created ones will not.

FAQ
How many days members are considered as "new"?

New community members will have the "New" badge attached to them for the first 7 days of their member journey.

New group members will have the "New" badge attached to their username for 7 days after them joining the group.


Can I adjust this setting on a per-group basis?
Yes, you most certainly can.
We know groups can be configured in a multitude of ways, including types and posting permissions. Therefore you might want to avoid exposing new group members in every group.

What about Mandatory groups?
In this scenario, in which a member is new to a mandatory group and also new to the community a single badge will be displayed.


I can only see this on Web, when is the update iOS and Android coming?
These changes should be coming in June/July 2021.
What's next?
We're thrilled to have this feature live and in your hands but as you can imagine, this is just the beginning. Back when we were designing and developing this feature, we took further iterations into account.

We would also want to utilise the newly added "horizontal lists" and redirect these to a global and searchable member directory. Which would trigger when members interact with the "See all" button as we think it's the best action cue to let members discover others.
Lastly, we've been also working on a Weekly Digest email feature. Our first iteration will include a list of new members that joined the community within the last 7 days.